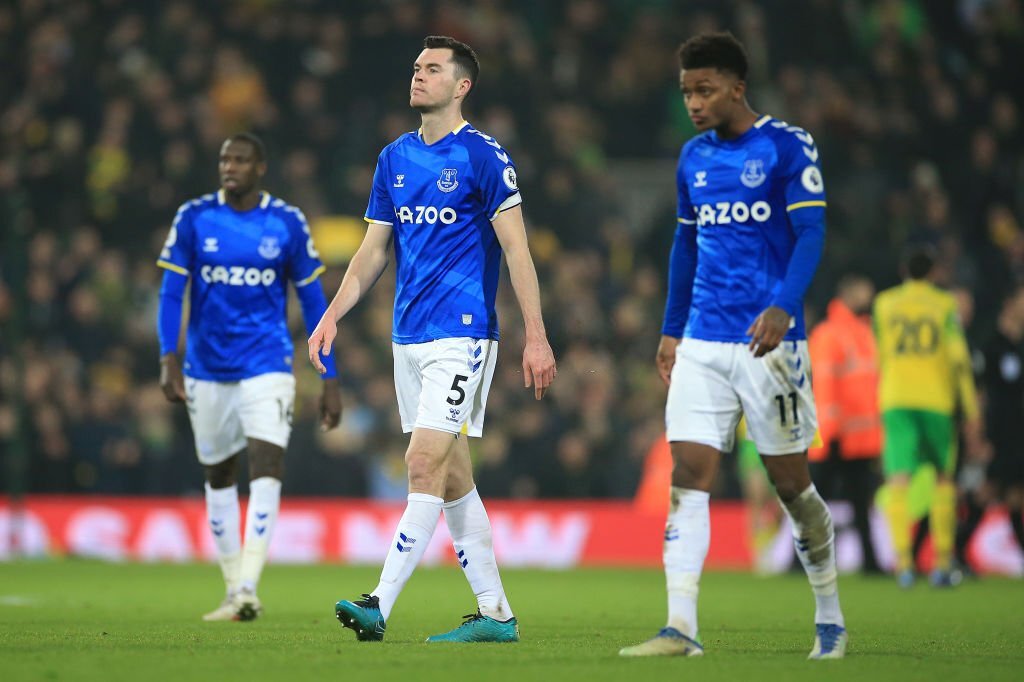 In Everton's 0-4 loss to Aston Villa last night, it was unsettling to see just how inadequate the Toffees were at some of the fundamentals.
We at 5Times thought Toffees manager Sean Dyche was maybe challenging his team's mental toughness when he said afterwards that they lacked sharpness, but everything about their performance seemed stupid.
We wanted to see the Everton players battle to keep the score down even when Villa was three goals up and the game was over, but it didn't seem like the message was coming across. We couldn't believe this was the same team who travelled to Brighton at the end of the previous season and played brilliantly to win 5-1, and we were left wondering where their star qualities were.
Everton played a little more more profound than usual against the Seagulls, but they were still compact and sturdy, and when they had control of the ball, they attacked with genuine passion and stormed the pitch boldly. Their reward was an outstanding outcome that helped to keep them in the Premier League.
Everton, who sit at the foot of the Premier League standings without a goal or a point after two games, already feels like it will be a very long season. They are already under pressure, and it will only become worse if they lose to Wolves, another struggling team, at Goodison Park this upcoming Saturday.
Manager Dyche must figure out how to accomplish a victory, just like he did when he joined Everton and kept them from being relegated. He accomplished it despite only winning five of the 18 league games under his direction, so he is aware of how crucial it is for the entire club to deal with disappointment this week and concentrate on the upcoming challenges.
However, we also know they are capable of performing as they did in that Brighton game, and now they need to demonstrate it. This Everton team is essentially the same one that struggled last year, so if no changes for the better are made, they are surely going to suffer again.
"The Dyche team needs to do better; they're making unexpected mistakes"
Everton began to give away much too much space in the midfield after a promising start against Villa when 5Times genuinely felt they performed OK in the first 15 minutes or so.
John McGinn and Moussa Diaby from Villa were skillfully placed into spaces in front of the Toffees' defence, but Dyche's team never really appeared to figure out a method to stop them, and in the end, they just couldn't handle the pressure.
Newcastle really got under their skin and pressed strongly when they played Villa last week. Everton's goal had to be to make things difficult for Villa, even if they lacked the players to execute the same game plan. However, they never came close to doing that.
5Times was definitely caught off guard to see the ball enter the Everton box so frequently, and there was occasionally some pretty sloppy defending, which is not what you would predict from a club led by Sean Dyche.
Everton put on possibly their worst performance since Dyche came over at the end of January, losing fairly easily despite making some terrible defensive mistakes. When you consider that they also lost two important players, Dominic Calvert-Lewin and Alex Iwobi, to injuries, it was a very gloomy day for them.
What could be the next step for Everton to improve?
You might be searching for positives right now if you're an Everton supporter, and Danjuma may be the only one. There aren't many, to be honest.
But Dyche needs help, and he was already working to bolster his attacking men before the Villa game. He is looking to recruit Leeds United attacker Wilfried Gnonto, as well as Southampton striker Che Adams.
Even though both of those players are in the Championship, Everton is now making purchases from the EFL due to their limited financial means. They are going to have to rely on hard work once more to turn things around as they can't exactly go out and sign costly players to try to do so.