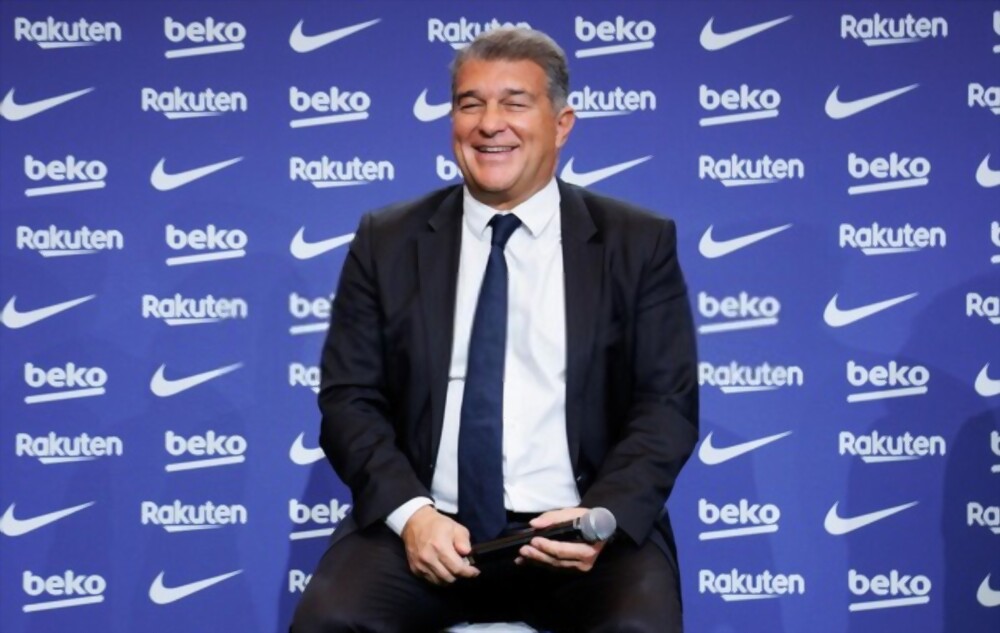 Joan Laporta, the president of Barcelona, has stated that the team did nothing wrong when it hired a firm to provide technical and officiating advice.
Spanish prosecutors have accused the club of corruption for payments made between 2001 and 2018 to businesses owned by Jose Maria Enriquez Negreira, a former vice president of Spain's referees' committee.
The accusations towards the Spanish giants include administration fraud, forgery of corporate records, and corruption in business and sport. Barcelona has consistently denied trying to influence officials or purchase referees and matches, and Laporta reaffirmed that stance at a press conference on Monday.
"FC Barcelona has always been an example of fair play, both on and off the field, throughout its 123-year existence," he stated. Talent, hard work, and expertise have surely contributed to our success throughout the years.
No effort to damage our reputation will stop us from remaining a sporting institution of note, liked and respected by millions of Catalans and many more millions worldwide.
I am positive beyond a shadow of a doubt that FC Barcelona has never taken any action to manipulate the competition to obtain an advantage.
Consulting on technical refereeing matters is not unlawful in any way. At least during my first term as president, consulting was done honestly and with the appropriate bills, as it is with the major clubs."
How did the accusations start?
The accusations towards the club are the result of an investigation by Spanish tax authorities into the business DASNIL 95, owned by Negreira, who held the position of vice-president of the officiating committee for Spanish football from 1994 to 2018.
When the tax inspectors discovered no proof that Negreira had performed any services in exchange for the payments—three payments totalling between €300,000 and €550,000—made by Barcelona to DASNIL 95, they decided to share the information with state investigators.
The claims against Barcelona were initially made public in February, with Spanish media source Cadena Ser being the first to make them public. Their inquiry started in May 2022.
Investigators discovered payments from Barcelona to Negreira totalling €7.3m over a 17-year period during which Barcelona won 10 league titles and four Champions Leagues. Some of these payments went through NILSAT, a second firm controlled by Negreira, which was the source of the original three payments discovered by tax inspectors.
What are the allegations and what fines could the club potentially face?
Barcelona has been accused of trying to "pre-determine or modify intentionally and fraudulently the result of a match or competition" and has been charged with the crime of "continuous corruption in business."
The use of the term "continuous" indicates that the offence is said to have occurred regularly over an extended period and that more severe penalties may be forthcoming.
The club, former presidents Sandro Rosell and Josep Maria Bartomeu, Negreira, and two other former Barcelona executives are accused by prosecutors of engaging in sports corruption, unfair administration, and falsifying business records.
According to the prosecution, Negreira favoured Barcelona "in the judgments taken by referees in the games played by the club, as well as in the results of the competitions" under a covert arrangement and "in exchange for money."
For those like Bartomeu, who was president from 2014 to 2020, or Rosell, who was president from 2010 to 2014, penalties may include up to four years in jail. On a sporting level, however, LaLiga president Javier Tebas has stated that Barcelona won't face any penalties because the alleged offences took place after LaLiga's statute of limitations had expired.
LaLiga is only permitted to look into complaints up to three years after the alleged rule-breaking incident, while UEFA, which has opened its own inquiry, is not subject to the same restrictions.