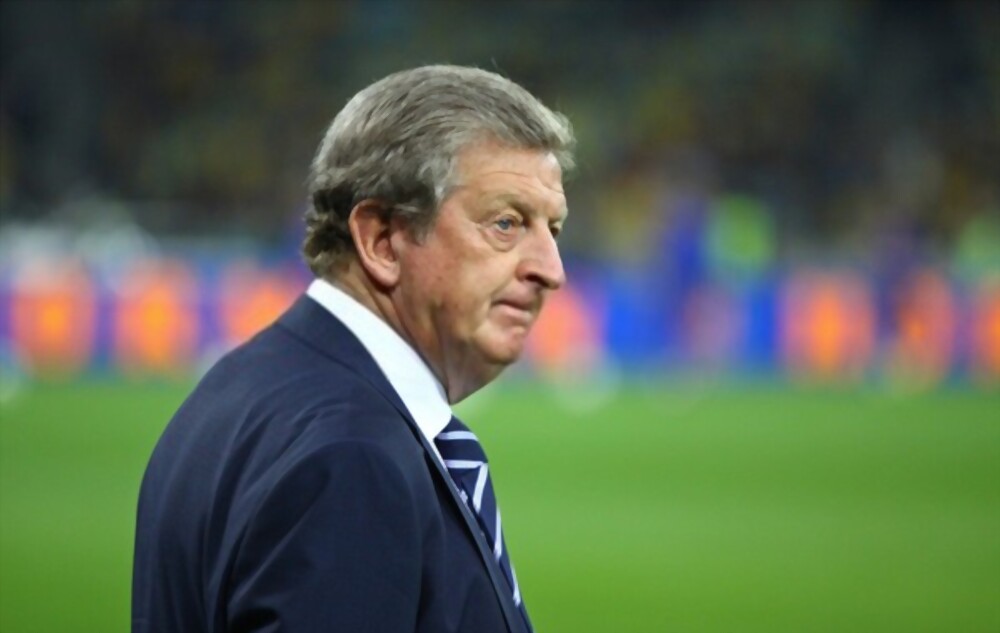 After leading the Eagles to safety, Roy Hodgson is the absolute favourite to become the permanent manager of Crystal Palace well into the next season. However, Palace chairman Steve Parish and his board may decide to go with a younger replacement since the former manager of England, Liverpool, Fulham, and Watford is at the age of 75 years old.
On September 1, 2023, UK betting firms are giving Hodgson a 4/5 chance of continuing to lead the team.
Steve Parish, the chairman of Palace, is currently going over his options for the next manager, which do not rule out keeping Hodgson.
Several former Premier League managers, like Graham Potter and Rafa Benitez, might be in the running if he decides to switch things up and release Hodgson.
5Times has reviewed each candidate's chances of becoming the next Crystal Palace manager, while the most recent odds on this market can be seen below.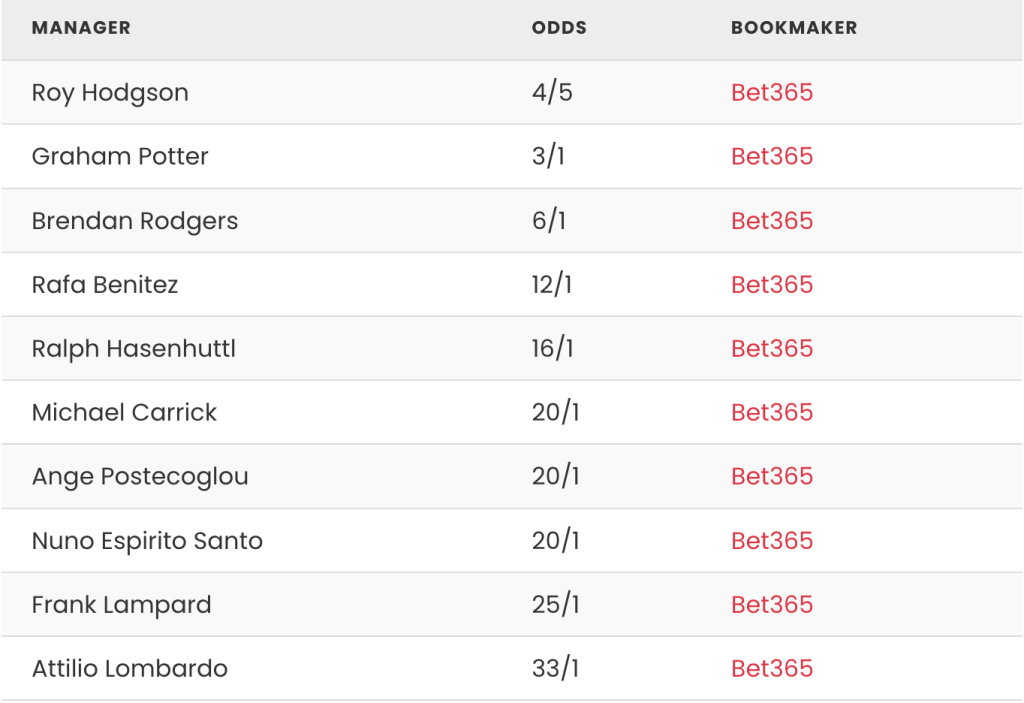 Bets: an overview of the next Crystal Palace manager odds
Michael Carrick – 20/1
Ange Postecoglou – 20/1
Nuno Espirito Santo – 20/1
Frank Lampard – 25/1
Attilio Lombardo – 33/1
Ruud van Nistelrooy – 33/1
Gareth Southgate -33/1 
Here's why Roy Hodgson is the favourite to continue managing Crystal Palace
Roy Hodgson is reportedly open to remaining on for another year, making him the 4/5 favourite in the odds to be appointed manager of Crystal Palace when the summer transfer market closes.
Former Palace manager Patrick Vieira was given the sack on March 21, just as the team was on a 13-game losing streak, and obviously in a very challenging situation. They were only three points away from the dangers of the relegation zone, which is why big boss Parish knew immediate action was necessary to keep the team in the Premier League.
The sacking of Patrick Vieira meant something was needed to make things better, he turned his focus to Hodgson, who had a successful four-year tenure as Palace's first-team coach before leaving in 2021.
The former England manager was excited to be appointed as manager of Crystal Palace after previously being temped to leave retirement for a disastrous spell at Watford last season. In his first game back in command at the Premier League club, the Eagles defeated Leicester 2-1, and he instantly sparked a return to winning ways.
Throughout Hodgson's 10 games in charge, Palace finished with five victories, three draws, and only two losses, comfortably finishing in the middle of the league 11 points above the relegation zone.
Paddy McCarthy odds – Assistant to main manager?
Paddy McCarthy, Roy Hodgson's assistant, is also a favourite to take over as the 75-year-old's long-term replacement at Crystal Palace.
McCarthy, a well-liked and well-respected coach, started his coaching career with the club's under-18s after quitting playing in 2016.
The former defender, who was born in Dublin and is alleged to have previously turned down offers of more senior positions at other clubs, and has reportedly been absorbing all he can from Roy's and Ray's experience during the last few months.
McCarthy, the former Palace captain who took command of the 4-1 loss to Arsenal in March when Vieira was fired as a result of a winless start to 2023, was kept by Hodgson along with Ray Lewington, his longtime assistant. It's been noted that Lewington returning as first-team coach alongside Paddy, should he remain an assistant manager, has also not been out-ruled.
Before Parish decided to bring Hodgson back, McCarthy is said to have been in contention for the position until the conclusion of the season. 
Odds of Ralph Hasenhuttl managing Crystal Palace next
Hasenhuttl's preference for relentless pressing and an energetic style of play may make him the ideal addition at Palace.
The similarities between his strategy and Jurgen Klopp's "Gegenpressing", some have called him "the Alpine Klopp."
The Austrian manager, who spent four years at Southampton until being abruptly fired in November, is well-liked in the Premier League. For him, the objective now is to start again as a Premier League manager in another team and start winning matches.
Considering that Palace's roster is full of enthusiastic players who may comply with his demands, he may represent an intriguing alternative at 16/1, with his sole objective being to turn the London club's fortunes around and keep Palace in the Premier League.
Could Brendan Rodgers possibly take over Crystal Palace next?
After guiding Leicester to FA Cup victory a couple of years ago, Brendan Rodgers could also help fulfil the immediate requirement of the next CP manager.
During his time with Leicester City, the Foxes achieved back-to-back fifth-place results and he had a big effect on the club and players. However, because of a lack of investment in the team, their performance plummeted, and in April he was fired as a result of a poor run of performances.
He may turn out to be a wise choice for Palace, making the odds of 6/1 at Bet365 on him getting the job intriguing.
Odds indicate Graham Potter could take over as Crystal Palace boss
If chairman Steve Parish decides to hire a new manager for Crystal Palace, Potter is one of the front-runners to take over.
During his tenure at Brighton, he established a reputation as one of the most stable managers in the nation, which led to his later September transfer to Chelsea. Unfortunately, his tenure at Stamford Bridge turned out to be a complete failure, and he was fired after only eight months. Since leaving Chelsea, Potter was previously connected to a number of teams, including the recently filled manager's position at Tottenham.
Potter will now surely want to restore his reputation and move up in the Palace hierarchy, and the opportunity to become manager of Brighton's bitter opponents may be alluring.
When he returned to the AMEX, it was clear he wasn't welcome, and by accepting the Palace post, he solidified his reputation as a villain. He is now apparently in negotiations with Selhurst Park, so the odds of him accepting the position at 3/1 sound enticing.
Rafa Benitez's odds
Since Everton fired him as manager in January 2022 after just six and a half months in charge, Benitez has been without a club.
Since then, he has been connected to a number of teams, including West Ham and Leicester, but he is still an unsigned free agent. Even if Benitez's reputation suffered at Everton, he still has extensive knowledge of the club thanks to his victories in the Champions League, Europa League, UEFA Cup, and two La Liga championships.
He has a ton of Premier League experience, so at 12/1 with the betting apps, he may be in the running for the Palace job.