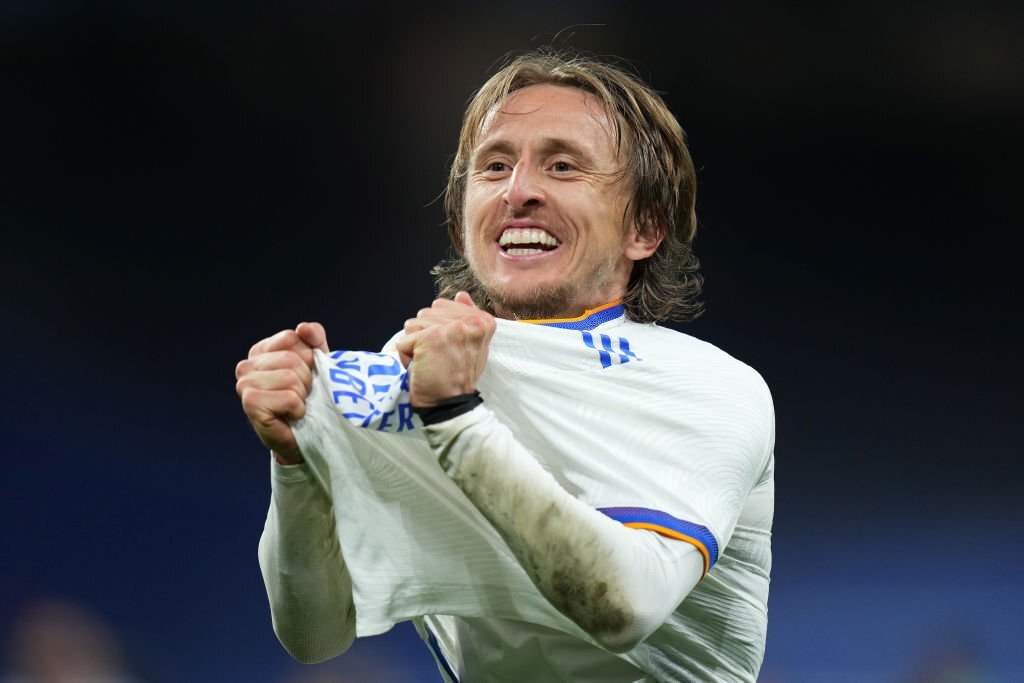 Luka Modrić is a name that nobody in the world will ask you "Who is that?" if you mentioned his name. 
Known as one of the most gifted and adaptable midfielders in the world, Modrić is a professional football player from Croatia, who began his career at Dinamo Zagreb before moving to London to join Tottenham Hotspur and later to Spain to join Real Madrid.
5Times has put together a guide for you to get to know the most-famous Croatian player of all time with some surprising and fun facts.
He grew up in a village called Modrići during the Yugoslavia war
Modrići, a tiny village in northern Dalmatia close to the Velebit mountain range, was invaded by brutal Serbian war groups on December 8, 1991, and the Croatian families who hadn't already evacuated were tortured, including Luka's family. One of the people who was shot was Luka Modri Senior, Luka's grandfather, who was cornered by a group of Serbian militants.
He grew up as a refugee
Following the incident with his grandfather, his parents were forced to leave Modrići and moved in at the Hotel Iz in Zadar. Little Luka and his sister Jasmina had to sleep with the sound of explosions and shooting every day. However, it didn't stop him from kicking a small, flat football around the parking lot of the hotel while he daydreamed of being able to leave his war-torn country someday.
Ivan Kovačić's godfather is Luka
In July 2021, when their son Ivan was nine months, fellow teammate Mateo Kovačić and his wife Izabel chose Modrić to be their son's godfather. The friendship between the two Croatians is undoubtedly a result of their time spent in Madrid together.
He won Croatia's Footballer of the Year
The midfield maestro won the Croatian Footballer of the Year award a record eleven times between 2007 and 2022. Modrić also holds the record number of international caps in Croatian football history.
He's the first footballer to compete at the World Cup and the Euros in three separate decades
Modrić proved just what kind of a player he is after he participated in the 2006, 2014, 2018, and 2022 World Cups, as well as the 2008, 2012, 2016, and 2020 European Championships. He also participated in the 2006, 2014, 2018, and 2022 European Championships.
He's the first player to end Cristiano Ronaldo and Lionel Messi's Ballon d'Or winning streak
When Modrić won the Ballon d'Or in 2018, he ended the Ballon d'Or winning streak held by only either Lionel Messi or Cristiano Ronaldo. He did this after his achievements with Real Madrid in the Champions League and guiding Croatia to their first-ever World Cup final, where they took the silver medal home.
He played the most minutes out of any player who participated in the 2018 World Cup
Throughout Croatia's incredible World Cup run in 2018, Modrić played every minute, totalling 694 minutes of playing time during the World Cup and surpassing all other players in the competition.
His signing by Real Madrid in 2012 was dubbed "the worst ever"
The La Liga signing made by Modrić during 2012's summer transfer window was deemed worse than Alex Song's move to Barcelona by the Spanish newspaper MARCA.
Xabi Alonso, Sami Khedira, and Mesut Ozil, for example, had already solidified their spots in the team, leaving Modrić with only a 32% vote as he tried to secure his spot in the first team.
Ronaldo is Modrić's idol
Although Modri played for Real Madrid for six years alongside Cristiano Ronaldo, the older "Phenomenon" was Modrić's first professional football hero. His first set of shin guards had an image of Brazilian Ronaldo on them, and he used them in the Bosnian League until eventually gave them away.
In 2016, Zidane said that Luka will win the Ballon d'Or
The Croatian stated after winning the Ballon d'Or in 2018: "When Zidane arrived to become Real Madrid coach in January of 2016, he took me to his office one day after training and explained what he saw in me as a player and what he wanted of me. I was a crucial player for him, he informed me. Above all, he expressed his belief in my ability to win the Ballon d'Or. It gives you more confidence when someone like Zidane, with his mentality and background, tells you this."