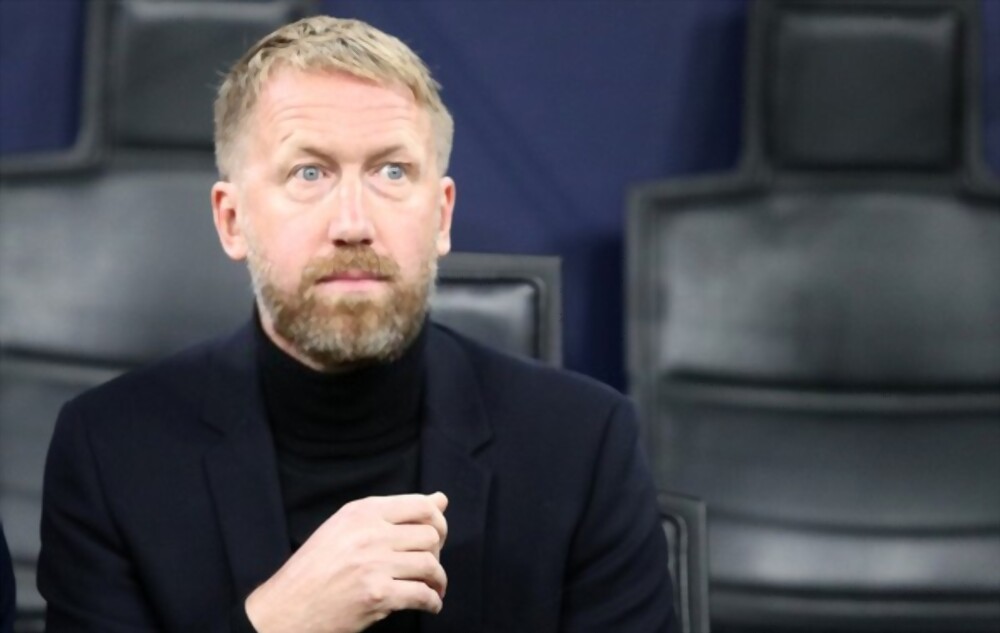 Potter's replacement is now the favourite, Julian Nagelsmann, who has been fired as the manager of Bayern Munich a week ago.
Potter signed a five-year contract on September 8 to take over as Thomas Tuchel's successor, but he departed the club just seven months later after winning just seven of his 22 Premier League matches.
Yesterday at 2:45 p.m., the former Brighton manager was fired at a meeting with the club's board.
Back in January, it was made known that several senior Chelsea executives wanted to fire Potter as manager. The club has also lost Billy Reid, Ben Roberts, Bjorn Hamberg and two assistant coaches, but will continue to work alongside interim head coach Bruno Saltor.
Chelsea lost 2-0 to Aston Villa at home on Saturday night, dropping the Blues to 11th in the Premier League standings and 12 points behind fourth-place Manchester United. Later this month, Chelsea will play Real Madrid in the quarterfinals of the Champions League. However, Potter's retirement comes after Chelsea's loss to Aston Villa, which will put Real Madrid on the schedule.
Some Chelsea fans sang, "you don't know what you're doing' at Potter during the team's loss at Stamford Bridge.
Who will lead Chelsea next as manager, then?
Bruno Saltor, a former defender for Brighton, has been named temporary head coach, while the hunt for a manager is on. His debut game will be against Liverpool at home on Tuesday. However, the current favourite has already established himself as a strong contender to succeed Potter in the long run.
Mauricio Pochettino has previously been sought after by Chelsea on two occasions. They are one of three reputable Premier League teams pursuing [Brighton manager and Potter replacement] Roberto De Zerbi hard. But it's essential to note that Potter made this decision at a time when Nagelsmann was just made available and Spurs were circling.
There are questions as to whether the German manager, 35, is ready to move to London.
What happened with Potter?
Results were a major contributing factor in Potter's dismissal, but that was not the only one. The Stamford Bridge board, who went on a £300 million buying rampage during the January transfer window, is rumoured to have seen a lack of development and did not approve of what they were seeing.
Following the loss against Villa, Potter's dismissal was decided upon immediately. Co-owners Todd Boehly and Behdad Eghbali of Chelsea stated in response to Potter's dismissal that read: "On behalf of everyone at the club, we wish to thank Graham genuinely for his commitment to Chelsea.
Graham is a coach and a man for whom we have the utmost regard. We are all unhappy with the decision since he has always acted with professionalism and honesty. We will all be supporting Bruno and the squad as we concentrate on the remainder of the season, together with our amazing supporters."
Chelsea's remaining 2022/23 fixtures
April 4: Liverpool (home) – Premier League – 20:00
April 8: Wolves (away) – Premier League – 15:00
April 12: Real Madrid (away), Champions League quarter-final – 20:00
April 15: Brighton (home) – Premier League – 15:00
April 18: Real Madrid (home), Champions League quarter-final – 20:00
April 26: Brentford (home) – Premier League – 19:45
April 29: Arsenal (away) – Premier League – 17:30
May 6: Bournemouth (away) – Premier League – 15:00
May 13: Nottingham Forest (home) – Premier League – 15:00
May 20: Manchester City (away) – Premier League – 15:00
May 28: Newcastle (home) – Premier League – 16:30
TBA: Man Utd (away) – Premier League