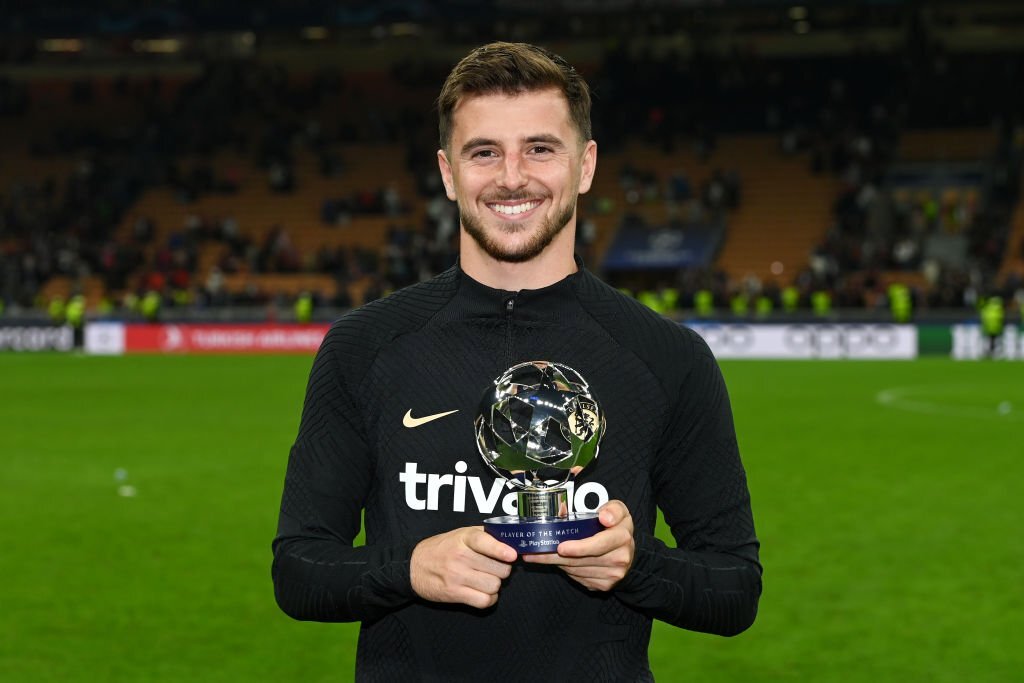 There isn't a person who probably hasn't heard of Mason Mount. The 24-year-old has accomplished a lot in his career so far, and 5Times has put together a guide on a few fun interesting things about Mount that you probably didn't know.
Mason Tony Mount is an English professional football player. He was born in Portsmouth, Hampshire, on January 10, 1999. In the youth system of Chelsea, one of England's premier teams, Mount started playing football. He joined the Blues at the age of six, moving up through the ranks while demonstrating a remarkable work ethic and football savvy.
The greatest achievement for him came in May 2021 when the Englishman hoisted the UEFA Champions League trophy with Chelsea. Mount continued to excel for Chelsea, contributing significantly to their success in the following years.
After displaying his promise at all junior levels with the Three Lions, Mount earned his senior international debut for England in September 2019. Since then, he has established himself as a regular player for England. He was a crucial element of the squad that advanced to the UEFA Euro 2020 championship, where they were defeated by Italy in a penalty shootout.
He's making his dad's dream come true
At a young age, Mount had his first football training at his family's house. The most significant impact on his son's football career came from his father, Tony Mount. Tony played non-league football before coaching nearby teams including Havant Town and Newport.
Although Mount's father's professional career was not amazing, he wanted his son to succeed. Mount's father was the one to enrol him at the age of four at Baorhunt FC, one of the premier football academies in the area.
Mount has always been transparent about how important his father's guidance has been to his growth as a professional player. He has stated that his father has always supported him and that he taught him the value of work ethic, enthusiasm, and commitment in football.
An urgent family gathering was arranged by his father
When Mount was just 15 years old and one of the most sought-after young athletes in the nation, he had to decide between a scholarship with the Blues and other offers from different clubs in 2014.
This was the period, though, when Roman Abramovich, the former Russian billionaire owner of Chelsea, was funding Chelsea, and the club's transfer strategy was more focused on signing superstars who were already created than on developing young players. Due to not being allowed to play at Chelsea, elite athletes like Kevin De Bruyne and Mohamed Salah departed and went on to have successful careers.
Tony Mount gathered the family to explore the possibility of leaving Chelsea since he was concerned about his son's circumstances. Uncles, aunts, and grandparents gave the gifted player advice. But despite the pressure, Mount's ambition to become a star for Chelsea remained unwavering, and he decided to stick with his favourite club.
His role models in football
Lampard, Andres Iniesta, and Luka Modric were Mount's football role models. He stated in an interview that Frank Lampard served as an inspiration to him during his time at Chelsea and his whole career as a midfielder.
"Frank Lampard serves as an example for midfielders when it comes to goal scoring. When he played for Tottenham in the Premier League, I observed [Luka] Modric. I was always watching Andres Iniesta at Barcelona in his heyday play their tiki-taka on YouTube," said Mount.
He's very close friends with Declan Rice
Declan Rice, who plays for West Ham United, and Mount have been close friends for more than 12 years. When they were barely eight years old, the couple initially interacted. Their hopes of professional contracts and England calls-ups were still only fantasies when they were in their formative years of football at Chelsea's Cobham Academy.
They stayed close friends and later became teammates for England. Both have achieved stardom at the club level as well; Mount remained at Chelsea and has established himself as a major player at Stamford Bridge, while Rice became a crucial player and captain at West Ham.
Mount was the Three Lions' "Golden Player" in the U-19 European Championships
Mount has had a strong start to his professional career. Due to his prior success, he is now an established member of Chelsea's first team and a full-fledged England international.
He rose to fame between 2015 and 2017 as a result of Chelsea's young players winning the FA Youth Cup (twice) and UEFA Youth League. Additionally, in 2017, he received the Three Lions' Golden Player award at the UEFA European U-19 Championship. After contributing three assists and two goals to England's victory in the tournament, he received the honour.
Mount is a two-time consecutive winner of the Chelsea "Player of the Season" award
The Blues enjoyed a fantastic season in 2020–21 in all competitions, and Mount's unstoppable form was a key factor in their success throughout that campaign.
With crucial goals and assists, he helped his side finish in the top four of the Premier League and win the UEFA Champions League. He also provided a crucial through-pass for teammate Kai Havertz's game-winning goal.
The "Chelsea Player of the Season" award highlighted Mount's effect and significance to the squad. He was also named to the PFA Team of the Year for that particular season as a result of his efforts.
He is Chelsea's youngest player to record 10 goals and 10 assists in a Premier League season
Throughout the 2021–22 season, Mount joined Lampard, Didier Drogba, Juan Mata, and Eden Hazard as the only players in Chelsea's Premier League history to accomplish this record with 11 goals and 10 assists in 32 appearances in the English top division. At only 23 years old, Mount has also made history by becoming the youngest player to do so.
He ended the 2021–22 season with 29 goal contributions in all competitions for Chelsea and also created more opportunities than anybody else in the club, emphasising his undervalued qualities such as passing accuracy and quickness. He is known for his exceptional dribbling skills that allow him to run through tight spaces and take on opponents with confidence.
He's a big fan of video games
The Chelsea star has a wide range of abilities. He is a gaming ambassador in addition to having coached England and the Blues to European Championship titles.
The 24-year-old is an enthusiastic gamer who can frequently be found playing online versions of FIFA, Call of Duty: Warzone, Fortnite, and other well-known video games. In June 2021, he was selected to serve as Combat Gaming's first official Brand Ambassador.