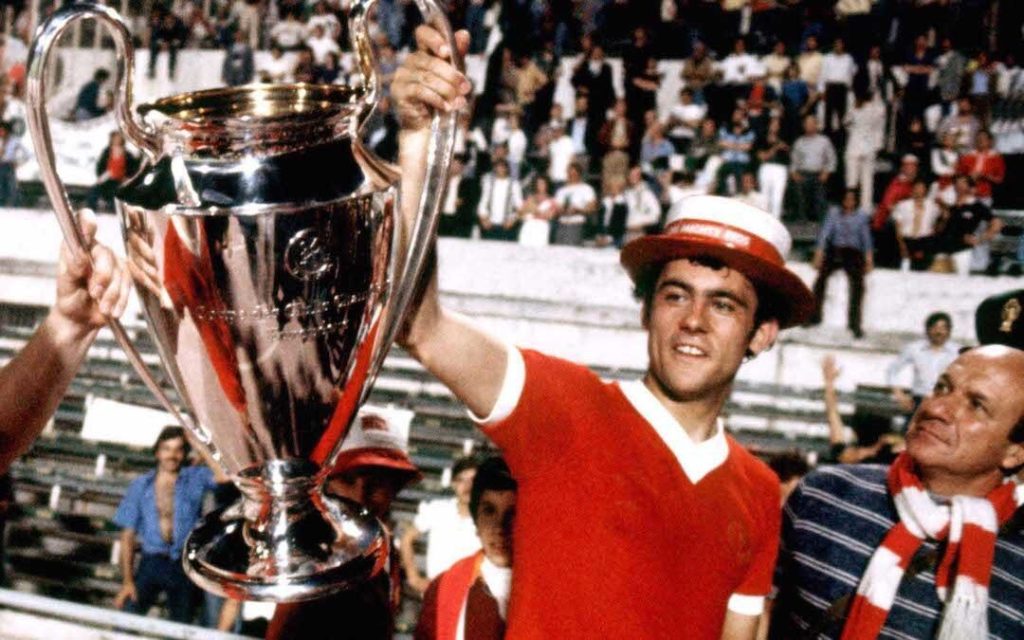 Largely regarded as one of Liverpool's greatest players during "Paisley's Liverpool" time, Ray Kennedy's death was noted by all Liverpool FC fans. Kennedy was an English footballer, who played for Premier League clubs, including Arsenal and Liverpool.
A few years after his career with the Reds ended, the talented multi-position player was diagnosed with Parkinson's Disease in 1984, agreeing to have his image used to promote a public awareness campaign about the disease, and fans have called him a "Ray of hope:. Kennedy remained a fan favourite among Liverpool fans decades after leaving the club, ranking 25th in the 2013 poll '100 Players Who Shook The Kop'. He sadly passed away on November 30, 2021.
During the peak of his career, he played six seasons for the Gunners before he moved up north to play for the Merseyside team in 1974. During his time at Anfield, he accomplished not only a lot of success, but also peaked in his career with the Reds. During his time at Anfield stadium, he won 11 trophies with the team, leading him to spend eight years with them. He signed over to Swansea City after his time at Liverpool, and played for a few more before his retirement in 1984.
A Liverpool "legend"
In the space of just seven years, Kennedy made 393 appearances for the Merseyside team, including scoring 72 goals. Some of his most important trophies with the Reds include five First Division titles, three European Cups, the League Cup, the UEFA Cup & Super Cup, making him one of the most successful players at Anfield of his time.
Kennedy joined the Liverpool squad for a club record signing of £180,000 , after he was sold to Liverpool from Arsenal, where he'd flourished as a striker. He was quickly scouted by the Reds, as he'd scored an impressive 71 goals in 212 games for Arsenal, including being a key player for the Gunners when they won the League-FA cup final in the 1970-71 season.
His first debut for the Reds was marked by him scoring the first goal in a 3-0 win against Chelsea, a month after he'd signed for Liverpool. He shocked fans when he scored the last goal in a 5-2 win at the Merseyside stadium against Tottenham Hotspur a week later.
Although he'd made a promising start in his new club, later on he'd only manage to mark three goals in 14 games. The club's manager, Bob Paisley, stepped in when he noticed that Kennedy's performance wasn't up to scratch, and he made the decision to switch Ray's position on the pitch, placing him on the left side of the midfield for the game against Middlesbrough on November 1. When the Reds won the match, Kennedy was told he'd play again in the same position.
His new position brought him good luck and he played seven successful League games and scored the winning goal in a 2-1 victory against Newcastle United later the same month. Fans described Kennedy as a "highly skilled player with great vision and movements to match".
Ray Kennedy promising Reds' midfielder
His new club had high hopes that they'd signed a great new player. In his new position, Kennedy showed promising qualities and tactical control of the ball, making him a permanent fixture in the Red's midfield. In the seasons between 1976-1978, he'd only missed five League games. During one of the most memorable seasons for the Merseyside team between 1976-77, Kennedy's 61 appearances in all competitions and nine goals were hugely celebrated by fans.
Seven out of nine goals were scored in the League, and the most important goal was the first one of the 2-1 home win over Ipswich Town FC, which helped Kennedy pick up his second championship medal with the Reds. Ray helped Liverpool progress to the finals of both the FA and European Cups, including scoring an unforgettable goal in the 3-1 quarter final win against the French champion team "St Etienne" at Anfield.
Kennedy missed just one game in the 1977-78 season, but managed to hit the net with four more goals, including one in a home win 3-1 against Manchester United, and another one in a 3-0 win at the Aston Villa stadium a couple of months later.
He would once more play a significant role as Liverpool attempted to win the League championship in the 1978–1979 season. The Reds had a great start to the season, dropping just one point in their first eleven League games, and he scored twice in a 5-0 home victory over Derby County in October. As a result of their strong play, they gained a commanding lead in the race for the championship.
They kept up their strong play, topping the standings throughout the year and winning their record-tying 11th League title on May 8, when they easily defeated Aston Villa at the Reds' stadium, with Ray scoring the first goal in a 3-0 victory. The fact that Liverpool compiled a top flight-record 68 points (under the two points) left no doubt about their domination.
Ray Kennedy's ups and downs weren't something uncommon
He was a regular in the League that season, scoring 10 goals, including a 4-1 win over Bolton Wanderers, and also appeared in 12 Cup matches, scoring once in a 3-0 win over Southend United in an FA Cup 3rd replay at Anfield. However, Liverpool failed to reach the final of any of the three competitions in which they competed, resulting in not qualifying for the European and League Cups, and losing in the FA Cup semi-finals 1-0 to Manchester United in a replay at Everton's Goodison Park ground. He did, however, end the season on a positive note by scoring in a 2-0 win at Derby in February.
Kennedy appeared in 40 League games during the 1979-80 season, scoring nine goals. His best scoring streak came in October-November, when he scored in four consecutive games. These included a 2-2 draw at Everton, a 4-1 win away at Brighton and Hove Albion, and 4-0 wins at home over Manchester City and Wolverhampton Wanderers – 3-0. Surprisingly, Kennedy was not the club's top scoring midfielder that season, due to Terry McDermott scoring eleven goals as Liverpool won back-to-back League titles, giving Ray his fourth championship medal in five seasons.
He appeared in 16 other competitions but failed to score, with Liverpool exiting the European Cup early, being beaten 4-2 by the then-Soviet Georgian club Dynamo Tbilisi in the first round, and losing in the semi-finals of both domestic competitions to Arsenal in the FA Cup, and Nottingham Forest in the League Cup.
Before the end of the long run at Anfield
He maintained an excellent form in the 1980-81 season, due to be one of his last for the Merseyside team, playing 62 of Liverpool's 63 games. He missed only one League game, scoring eight goals, including one in a 3-0 home win over Crystal Palace on the first day of the season, August 16, a promising start as Liverpool sought a hat-trick of championships.
However, injuries and a lack of goals from the strikers (midfielder McDermott led the League in scoring with 13 goals) meant that the Reds failed to mount a title challenge for the first time in a decade, finishing fifth, nine points behind champions Aston Villa. Kennedy appeared in 21 other competitions, scoring five goals. Ray's strong point was usually his right foot, which gave Liverpool a 1-1 draw and sent them through to the final on the 'away goals' rule after a 0-0 draw in the first leg at home in April 1981.
After defeating West Ham United to win the League Cup for the first time in their history (a 2-1 win in the replayed final at Villa Park on April 1), the Reds now had the opportunity to win their second trophy of the season and reclaim the European Cup. This they duly accomplished on May 27 with a 1-0 victory over Real Madrid in Paris.
The 1981-1982 season happened to be Ray's final season in a the iconic red shirt. He appeared in all but one of Liverpool's first 16 League games, scoring in a 3-3 draw at Brighton in October and a 2-0 win at Nottingham Forest in December, but his final game was during the World Club Championship game in Tokyo, where Liverpool lost 3-0 to Flamengo.
Merseysiders had started the season poorly, slipping to mid-table in the League in December, and manager Bob Paisley saw the need to call for a change. Ronnie Whelan, a young Irishman destined to be a club and country star, took over Ray's position on the left side of midfield and quickly made it his own with an unstoppable string of net hits.
Whelan's arrival marked the end of Kennedy's illustrious career at Anfield, and he moved to Swansea City, where he signed for £160,000 in January 1982. Ray was a key figure in the club's golden era, having played 393 games, scoring 72 goals and winning 10 major honours in eight seasons, including five League titles and three European Cups.
Ray Kennedy's new beginning and hardship in Wales
In January of 1982, Kennedy rejoined his former teammate John Toshack at Welsh club Swansea. He received his sixth League championship medal as the Swans finished fifth, having played enough games for Liverpool to qualify for one. Toshack appointed Kennedy captain for the upcoming season, which ended in relegation.
Kennedy was struggling with his physique and stability, due to Parkinson's, which was unknown to Toshack. Toshack deposed him as captain, claiming that he wasn't trying hard enough, was lazy, and was overweight. Shortly after, troubled Swansea sacked Toshack, and Kennedy was granted a free transfer in September 1984, after appearing in 49 matches for the club in two and a half years.
Ray was finally clinically diagnosed with Parkinson's Disease in November of 1986. He bravely dealt with his increased lack of mobility and reliance on medication to control his condition, and he became a public figure and representative for his condition, in order to raise funds for research. His devotion to both Arsenal and Liverpool was rewarded in 1991 with a well-attended testimonial match at Highbury, an emotional experience for him, his family, and all the supporters.
On April 21, 2009, before the Premier League match between the two clubs, Arsenal and Liverpool fans paid the ultimate tribute to Ray Kennedy's great service to both clubs at Anfield. Kennedy's Liverpool number, "5", was held up by coloured cards at the Kop, and Kennedy's Gunners number, "10," was held up by coloured cards in the lower Anfield Road section.
The passing of Ray Kennedy and his remembrance
At the time of Ray's passing, he was only 70 years old. The Reds' fans say that at the time of his passing, "he was in the thoughts of everybody at Liverpool". Tribute was paid to him. Shortly before his death, he went on to release his autobiography "Ray of hope", co-authored by the doctor who was treating him at the time, Dr.Andrew Lees.