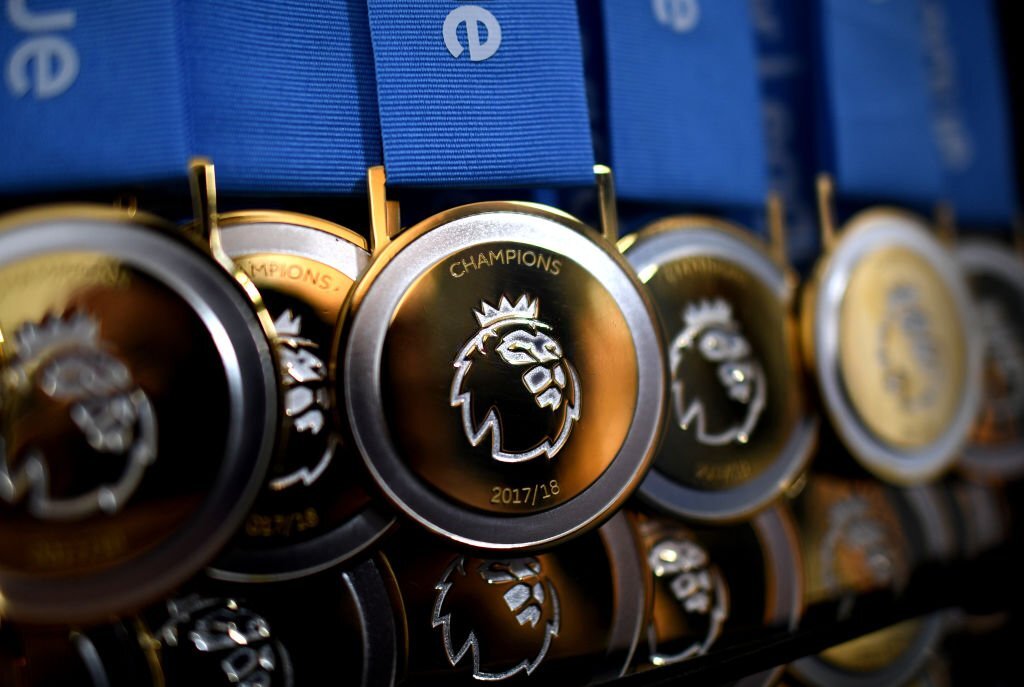 Let's see if last year's predictions that Manchester City would win the Premier League will repeat this year. With every new season, anything is possible. 
However, as fortune favours the brave—or the stupid, depending on your perspective—let's take another look at the 5Times yearly Premier League predictions – or how we think next season's teams will line up in the standings.
1 . Manchester City – Last Season's Champions
As they attempt to build on their Triple Crown victory, it is tough to imagine Manchester City capturing a sixth championship in seven seasons.
With the arrival of Mateo Kovacic, who will assist the midfield with his talent and experience, and fellow Croatian talent Josko Gvardiol's arrival, who many experts believe has the potential to become one of the world's greatest defenders in the future, the squad has grown frighteningly strong.
This season's champions can likely be the same as last year's if you think about it. Needless to say, Erling Haaland's talent and the unfailing brilliance of Kevin de Bruyne, along with the rest of the strong roster just doesn't get any better than that.
2 . Liverpool – Placed 5th Last Season
Twelve months after winning the FA and Carabao Cup and coming within two matches of an unheard-of quadruple, manager Jurgen Klopp and his team failed to raise the silverware last season and virtually played no Champions League football.
The Saudi Pro League's use of its wallet interfered with Klopp's plans, resulting in the departures of Fabinho and captain Jordan Henderson. Likely, Klopp's list will now include Southampton's Romeo Lavia as well as Argentinian World Cup champion Alex Mac Allister and talented Hungarian Dominik Szoboszlai.
3. Arsenal – Placed 2nd Last Season
Last season, Arsenal was outstanding throughout most of the season until stuttering under constant pressure from Manchester City, but the team led by manager Mikel Arteta made excellent strides during the season.
Declan Rice was signed for a huge price, maybe worth around £105 million in total, but he will be an excellent addition to the midfield. Arteta also spent a lot of money on Kai Havertz, for who Arsenal paid £65 million to Chelsea. As Arsenal gears up for its first Champions League campaign since 2016–17, the Netherlands' Jurrien Timber might prove to be yet another elite recruit.
All of this is in addition to the true talent Arsenal already possessed, which included Gabrial Martinelli, Martin Odegaard as captain, and Bukayo Saka.
A confidence booster for the Gunners was the Community Shield victory over Manchester City. So, do we think Arsenal will win the title? No. But do we consider Arsenal to be a champion in their own way? Yes.
4 . Manchester United – Finished 3rd Last Year
After winning the EFL Cup, United's first trophy since 2017, qualifying for the Champions League, and reaching the FA Cup final, where they lost to Manchester City, Erik ten Hag's rebuilding program is now in its second phase.
Andre Onana has taken over as David de Gea's backup, while England midfielder Mason Mount will want to resurrect his club career after a bad last season at Chelsea before his transfer. Rasmus Hojlund, the new £72 million forward for the Red Devils, will also get a lot of attention in the upcoming season. He could need some time and determination to develop into the striker United needs as soon as possible, but at that cost which was paid for him, he can barely hope to get in without a fight.
We at 5Times believe United will build on the progress made under Ten Hag last year, however, with no chance of winning the championship, but a good chance for several awards.
5 . Aston Villa- 7th Place Last Year
We think Aston Villa will be really good this year. They have demonstrated genuine transfer-market desire in the backing of top boss Unai Emery since he led them back to Europe.
Pau Torres, a new defender who has long been highly rated, and Moussa Diaby, a France winger, both present significant offensive threats to whatever opponent stands up to them. Youri Tielemans, a free agent who was acquired from Leicester City, might potentially prove to be a valuable addition.
Under the great knockout tournament expert Emery, who has won the Europa League four times, Villa will also be worth a chance to win the Europa Conference League.
6 . Chelsea- Finished 12th Last Year
After a season of relentless suffering in which three managers—Thomas Tuchel, Graham Potter, and Frank Lampard—took turns in control and a £600 million buying binge only resulted in a mid-table position, Chelsea is now under the direction of Mauricio Pochettino.
This summer, the revolving door has been turning. Cesar Azpilicueta, Mason Mount, Kai Havertz, Christian Pulisic, Kalidou Koulibay, and N'Golo Kante have all left, while the additions of Nicolas Jackson and Christopher Nkunku, albeit the latter is presently injured, make up for a noticeable missing from last season's spending storm.
Enzo Fernandez, a £107 million player, is unquestionably talented, and Mykhailo Mudryk will be looking to return to his best form. After signing a new contract following his success on loan at Brighton last season, Levi Colwill has the potential to be a great star in the defence.
To fill the void in the middle of the field, Moises Caicedo of Brighton is unquestionably the preferred candidate. Chelsea won't be in contention for the championship in our opinion, but we think Pochettino will give them a boost, and it's never impossible for them to win some hardware.
7 . Newcastle United – Placed 4th Last Year
Happy times are on the Tyneside as manager Eddie Howe managed to guide Newcastle back into the Champions League with the support of the club's Saudi Arabian owners.
Since Newcastle was taken over by the Saudi Public Investment Fund, their expenditure has been substantial. This summer, that strategy was maintained with the addition of Italy midfielder Sandro Tonali from AC Milan for £55 million and the talented Harvey Barnes from Leicester City to add breadth and quality. Southampton's rising young full-back Tino Livramento is a player fit for the present and the future.
Although it's uncertain whether another top-four result will occur, the long-term prospects are undeniably on the rise.
8 . Tottenham Hotspur – 8th Place Last Year
Ange Postecoglou joined Spurs from Celtic not long ago to lead the current rebuild, which has once again been set against the backdrop of the protracted Harry Kane transfer crisis.
After the turmoil of previous seasons, Postecoglou will require time and patience, but his teams often make for tremendously exciting watching, so that will at least be an advancement.
James Maddison, an English midfielder, joined Spurs from Leicester City, bolstering their midfield. Guglielmo Vicario, a goalkeeper who came from Empoli, will look to succeed Hugo Lloris as the team's starting goalie. Micky van de Ven, a defender for the Netherlands Under-21 team who was signed from Wolfsburg in a £43 million deal, has a solid reputation.
9 . Brighton Hove & Albion – 9th Last Year
Under the charismatic leadership of Roberto de Zerbi, Brighton was perhaps the most enjoyable club we watched last season. They were a fantastic blend of exciting forward play and tough alliance.
The opportunity to play in Europe was a deserving reward, and despite losing Alexis Mac Allister, the 5Times team predicts for them to have a successful season this time around.
Joao Pedro, a tremendous offensive potential from Watford, has joined the squad, while Bart Verbruggen, a goalkeeper for the Netherlands Under-21, has moved from Anderlecht. Igor Julio, a Brazilian central defender, will strengthen the defence, and James Milner, a free signing from Liverpool, brings a wealth of knowledge and experience.
If Mohammed Kudus from Ajax can be acquired for £35 million, it will further strengthen Brighton's offensive capabilities.
10 . Brentford – Placed 10th Last Season
Ivan Toney, Brentford's top striker, is suspended until January 2024 after breaking Football Association betting regulations, but manager Thomas Frank will be confident that he has enough options given the Bees' performances that have made them a credit to the Premier League.
After joining Wolverhampton Wanderers for a club-record £23 million, Nathan Collins should be a great addition to the defence. Frank is also looking for attacking reinforcements, with Brennan Johnson of Nottingham Forest being a top target.
11 . West Ham United – 14th Place Last Season
Given Declan Rice's departure and more concerns over David Moyes' managerial future, our 11th-place assumption may be a bit overly hopeful.
The Hammers still have time to make things right, but there have been sinister clouds in the sky. Even though Moyes has a ton of experience and won a lot of fans with his first title after such a lengthy career, he is not a fool and is aware that he has to make additions to his team.
Edson Alvarez, a midfielder for Ajax, is reportedly close to signing for £35 million, while bids have been made for Scott McTominay and Harry Maguire of Manchester United.
12 . Crystal Palace – Last Season's 11th Placement
This season, Selhurst Park will be without Wilfried Zaha, as has finally left and joined Turkish giants Galatasaray.
75-year-old manager Roy Hodgson was given another season in charge thanks to his accomplishments in regaining control of the Palace situation and playing offensive football in the process. The Eagles, who are expected to be well-organised, will be without Michael Olise for the foreseeable future due to a hamstring injury, though the talented Eberechi Eze will contribute significantly.
With his transfer from Bournemouth, Jefferson Lerma brings experience, while the £26 million signing of 19-year-old Brazilian attacker Matheus Franca from Flamengo will provoke interest. Expect a season from Hodgson. sturdy, steady, and trouble-free.
13 . Fulham – Last Season 10th Place
Under manager Marco Silva, Fulham slowed off at the end of the previous campaign but still had a fantastic return to the Premier League.
This season, their position might not be quite as high, but we also don't predict a relegation battle.
Much will depend on their ability to prevent highly sought-after striker Aleksandar Mitrovic from being captured by Saudi Pro League team Al-Hilal, who are very interested and have already had a bid rejected.
The Cottagers should have enough players for another respectable season if Mitrovic and star midfielder Joao Palhinha are healthy and available.
14 . Nottingham Forest – 16th Place Last Season
Due in large part to a fantastic atmosphere at the City Ground, manager Steve Cooper performed an outstanding job of keeping Forest in the Premier League despite assembling an entirely new squad.
This summer hasn't been quite as fierce as last – how could it be? – but Forest will be aware that potential suitors are circling the brilliant forward Brennan Johnson. It would be intriguing to see if Antony Elanga can continue the sporadic promise he showed at Manchester United previous to his £15 million departure, and if Cooper can revive Forest.
15 . AFC Bournemouth – 15th Place Last Season
After doing such a good job of keeping the Cherries in the league, it came as quite a shock when Gary O'Neil was fired. However, owner Bill Foley has great expectations and hired former Rayo Vallecano coach Andoni Iraola.
Iraola will receive support because of his reputation for playing exciting football, and the biggest signing will be Justin Kluivert, who will join for £10 million after his career at Roma came to an end. Bournemouth will be hoping he gives them the cutting edge they occasionally lacked last season.
16 . Everton – 17th Place Last Year
Where does one begin when dealing with a team that has barely avoided relegation for the past two seasons and has yet to demonstrate that it has learnt its lesson?
Everton has been without a strong backup striker for Dominic Calvert-Lewin for a year, and they have failed to sign anyone who appears ready to step into that position. Leicester City's Patson Daka is the most recent name to be connected.
Everton is now scraping by in the bargain basement due to the extent of its recent financial wrongdoing. The team is now smaller than the one that avoided relegation on the final day of the previous season, but the free-agent arrival of Ashley Young, 38, perhaps is a very wise choice.
The long-rumoured investment from American company MSP Sports Capital as well as the expected board reset for Everton have not yet taken place.
Fans are unhappy that three major board members quit in June, but chairman Bill Kenwright is still in place. Since January, the 77-year-old hasn't been comfortable going to a game at Goodison Park because of safety worries.
Everton's manager Sean Dyche's organisational abilities could just keep the team in the Premier League, but there are worries about an October hearing after the team was sent to an independent commission for a possible violation of the league's Financial Fair Play regulations.
Everton denies any wrongdoing, but if they are proven guilty, the possibility of losing points looms, which certainly affects this specific forecast.
17 . Burnley – 1st In The EFL Standings Last Season
The three teams advancing this season have been predicted to drop immediately back to the Championship, but if one team can defy those forecasts, we've placed our bets on Burnley.
They were without a doubt the best team in the Championship last year, rolling to victory and playing outstanding football under manager Vincent Kompany's debut at Turf Moor.
Burnley has demonstrated desire and creativity in its attempts to sign midfielder Sander Berge from Sheffield United, another one of the promoted teams, and in their £19 million signing of Manchester City goalkeeper James Trafford, the star of England's Under-21 Euros victory.
Burnley has been freshened up under Kompany, and the uncertainty for Friday's home opener against Champions City is real.
18 . Wolverhampton – Last Season 13th
Wolves give us a very worrying feeling. Although Julen Lopetegui performed a fantastic job of keeping them in the Premier League, he has not even reached the starting lineup this time. He left the team in anger with his failure to make the improvements he needed and wanted, which came as a burden last season.
Wolves have lost talent worth over £90 million, including their superb midfielder Ruben Neves, without making any meaningful improvements as they follow Financial Fair Play regulations. This is another terrible blow for Wolves. Lopetegui appeared to be their greatest chance of surviving, and now that he's gone, Wolves are in trouble.
19 . Sheffield United – 2nd In The EFL Standings Last Season
Paul Heckingbottom, the team's manager, did an excellent job getting Sheffield United back into the top division, but it already appears like he may struggle to keep them there. Sander Berge appears to be going to Burnley, a team that may very well be trying to stay up, and he has been operating on a very small budget. He is also about to lose a second key player.
While Berge is nearing the end of his contract, and his scheduled departure is both a genuine confidence hit and a footballing one, forward Iliman Ndiaye, who scored 14 goals and had 11 assists last season, has transferred to Marseille. They will require all the support Bramall Lane can provide them as Heckingbottom attempts to turn it into a fortress.
20 . Luton – 3rd In The Championship Last Campaign
Regardless of how well Luton Town performs in the Premier League, they have overcome a nightmare to realise a dream by being the first team in English football history to fall from the top division to the fifth and then rise back up to the top flight.
After scoring 20 goals last season, forward Carlton Morris, who just signed a new deal, will be an important player in the upcoming campaign. Edwards also has high expectations for new signing Tahith Chong, a former Manchester United player who joined from Birmingham City for £4 million. Although it is impossible to imagine Luton lasting, we would like to surprise ourselves and turn out to be wrong.
Last season, manager Rob Edwards was a major embarrassment. After only 11 games with The Hornets, he was fired, and he moved to Kenilworth Road where he oversaw a promotion drive. Let's hope for the best for this season…