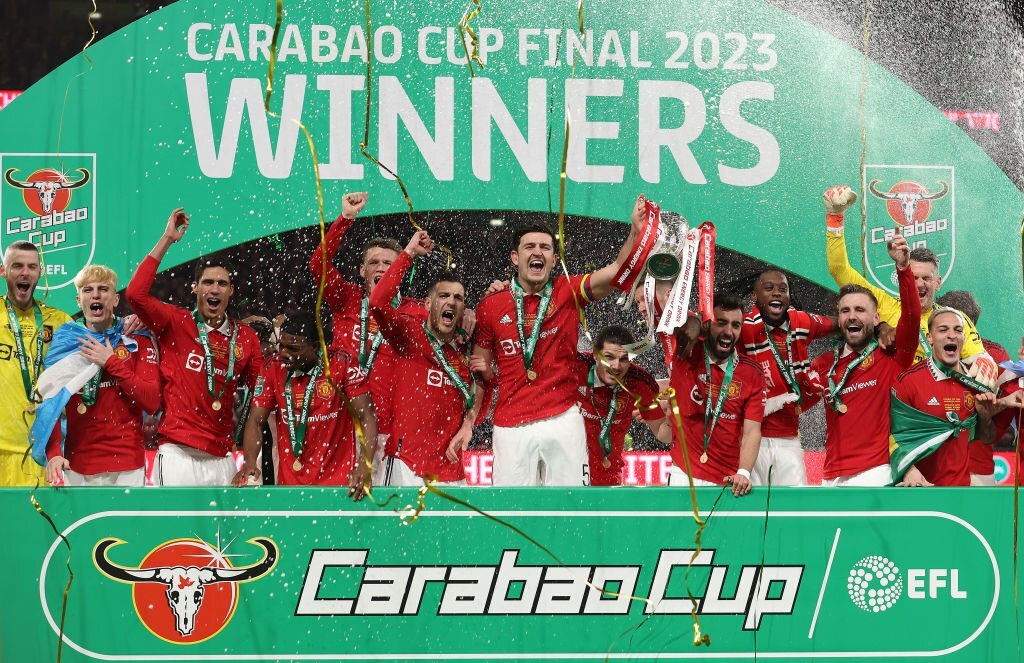 Here is how 5Times predicts the third round of Carabao Cup matches will play out, with starting XI rotation predicted and lots of goals hoped for around the country.
Teams from Europe are joining those who prevailed in their second-round matches in August as the 2023/24 Carabao Cup returns this week. With a victory against Burnley over the weekend, CC champions Manchester United was able to put its crisis behind them. Up next for them are two games against Crystal Palace.
Manchester City, who have won the event four times under Pep Guardiola, will play Newcastle in the round's featured matchup. Newcastle thrashed Sheffield United 8-0 and is ready for the triple winners' arrival.
Carabao Cup predictions: Third round
Tuesday 26.09
Five clubs from the top division will compete in the Carabao Cup tonight, with Manchester United's head-off vs. Crystal Palace being the only Premier League matchup of the evening. Despite United's recent struggles under Erik ten Hag, the Eagles haven't been very active lately in front of goal. To keep the first title they won under the Dutchman in his first season as manager, the Red Devils are still heavy favourites to advance to the next round.
| | | |
| --- | --- | --- |
| Kick-off time (BST) | Game | 5Times' prediction |
| 19:45 | Exeter vs. Luton Town | 0-3 |
| 19:45 | Ipswich vs. Wolverhampton | 2-1 |
| 19:45 | Port Vale vs. Sutton | 2-0 |
| 19:45 | Bradford vs. Middlesbrough | 0-2 |
| 19:45 | Salford vs. Burney | 0-3 |
| 19:45 | Mansfield vs. Peterborough | 0-1 |
| 20:00 | Man Utd vs. Crystal Palace | 2-1 |
Despite having only won two of their games this season, Luton is expected to easily defeat Exeter City, who have lost three of their previous four games.
The journey to Ipswich for the Wolves is a dangerous one. The Wanderers' primary goal this season appears to be avoiding relegation, while the Tractor Boys are hoping to make a 20-year Premier League comeback following a quick start in the Championship.
Wednesday 27 September
| | | |
| --- | --- | --- |
| Kick-off time (BST) | Game | 5Times' prediction |
| 19:45 | Aston Villa vs. Everton | 2-1 |
| 19:45 | Lincoln City vs. West Ham | 0-2 |
| 19:45 | Fulham vs. Norwich | 2-1 |
| 19:45 | Blackburn vs. Cardiff | 0-0 |
| 19:45 | Liverpool vs, Leicester | 3-0 |
| 19:45 | Bournemouth vs. Stoke City | 2-2 |
| 19:45 | Chelsea vs. Brighton | 1-2 |
| 19:45 | Brentford vs. Arsenal | 0-2 |
| 20:00 | Newcastle vs. Man City | 2-4 |
The remaining Premier League clubs will compete in Wednesday's schedule. Everton's opponent, Aston Villa, is the favourite, but the Villans' recent trips to Europe may give the Toffees a better chance of advancing to the fourth round.
Recent defeats to Manchester City and Liverpool have undermined West Ham's promising start to the season, but they should resume their winning ways against League One's Lincoln, a mid-table team.
Norwich will travel to Fulham, who eliminated Tottenham in a penalty shootout at Craven Cottage, as compensation for making it to the third round, despite giving up eight goals in their past two Championship games, including a somewhat lopsided 6-2 loss to Plymouth last time out.
The starting lineup for Liverpool versus Leicester will reveal how seriously Jurgen Klopp and the Reds are taking the Carabao Cup this season, although the competition was last won by the Reds in 2021–2022, and the Foxes may not be able to handle the attacking prowess on display at Anfield.
Andoni Iraola and Bournemouth have yet to win any league games this season, but the arrival of Stoke should result in advancement to the fourth round.
A rotating XI may have trouble against Brentford, who have had trouble finding their best form in the early going of the 2023–24 season. Arsenal couldn't manage victory in the north London derby on Sunday, twice going ahead before the full-time whistle blew at 2-2.
When high-flying Brighton arrive at Stamford Bridge, the bad times for Mauricio Pochettino and Chelsea, who lost 1-0 at home to Villa on Sunday, appear certain to continue. Due to their five-match winning streak against the Blues, the Seagulls are the favourites.