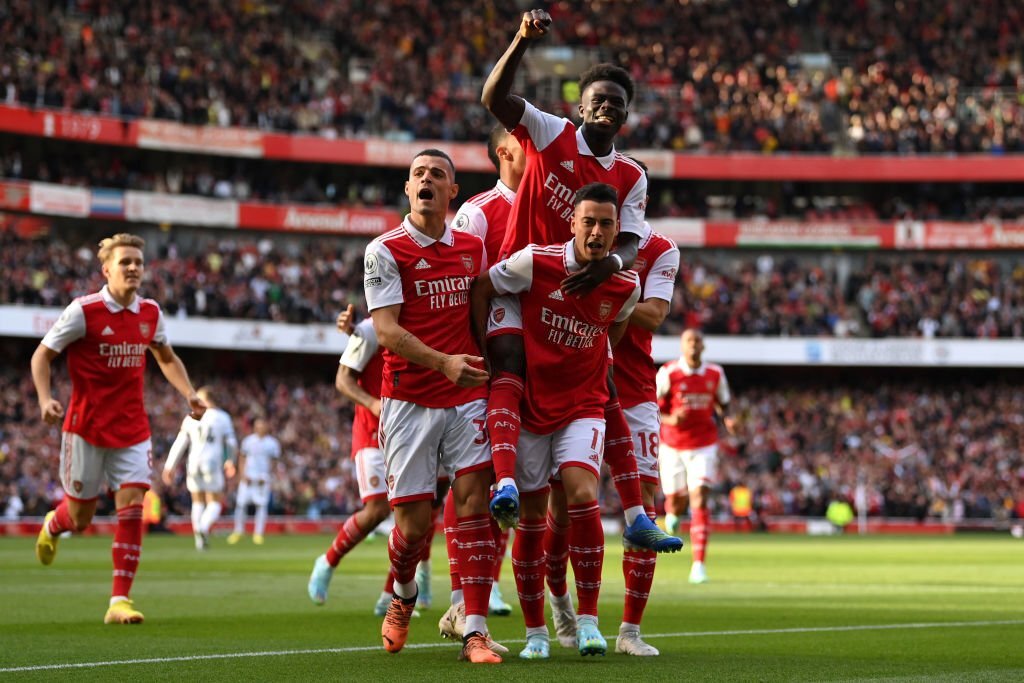 At Goodison Park, Arsenal battled valiantly to defeat faltering Everton in a close but well-deserved victory.
The Gunners have struggled with away games at Everton recently, losing on four of their last five occasions, and there's been a switch in the starting eleven, including David Raya taking the place of Three Lions goalkeeper Aaron Ramsdale.
The Toffees, who still run winless in the Premier League this year, lacked quality in their performance, and after 69 minutes, Leandro Trossard, an Arsenal sub, scored with a side-foot finisher.
In the build-up, Eddie Nketiah's offside call against Gabriel Martinelli in the first half nearly cost Arsenal the match, but the home team was unable to hold out as Trossard put an end to some persistent Gunners probing around the box. Mikel Arteta, the team's manager, was overjoyed as his team kept up their undefeated start to the season and closed the gap on league leaders Manchester City to just two points.
The home team, in contrast, seemed doomed to a season of relegation fight and was a far cry from the group that dominated Arsenal in manager Sean Dyche's first game in command in February.
After the final whistle, Arteta's gleaming smile in front of the visiting supporters told it all. The Spaniard was enjoying a significant win at a place where he was revered as a player but where he had unpleasant coaching experiences.
The Gunners have already stuttered in the intense environment of Goodison Park, most notably last season when they suffered a devastating loss shortly after Dyche took over as Everton manager.
There were no such issues here since they maintained control over a pitifully bad Everton team, who handed Raya the easiest of games in his team's Premier League debut. A series of useless Everton crosses allowed the new Brentford signing, who appeared at ease with the ball in his hands, to engage in some rather amateurish catching exercise. At the end of the game, Everton's supporters clapped their players off, but there was no skill on display from the home team, so it appeared to be out of habit rather than any recognition of Dyche's players' abilities.
The referee, Simon Hooper, was also the target of boos, but the fact is that Everton put on a terrible performance that lacked any cohesiveness, originality, or offensive flair.
Although both James Tarkowski and Jarrad Branthwaite made significant defensive blocks and goalkeeper Jordan Pickford played superbly, this was a devastating demonstration of the difference in class between the two teams.
Following the revelation that owner Farhad Moshiri has agreed to sell his 94.1% stake in the club to American investment company 777 Partners, there is a lot of uncertainty both on and off the field at Everton. This announcement has left supporters with more questions than answers.
Even the finest of attackers would find it difficult to rely on the lack of support from the midfield, despite the best efforts of Everton's new £25 million striker Beto. Dominic Calvert-Lewin was brought in to replace him, but without any help from outside, he met the same end.
Overall, Everton already appeared doomed to another dreary season of struggling to stay afloat after collecting just one point from five games.