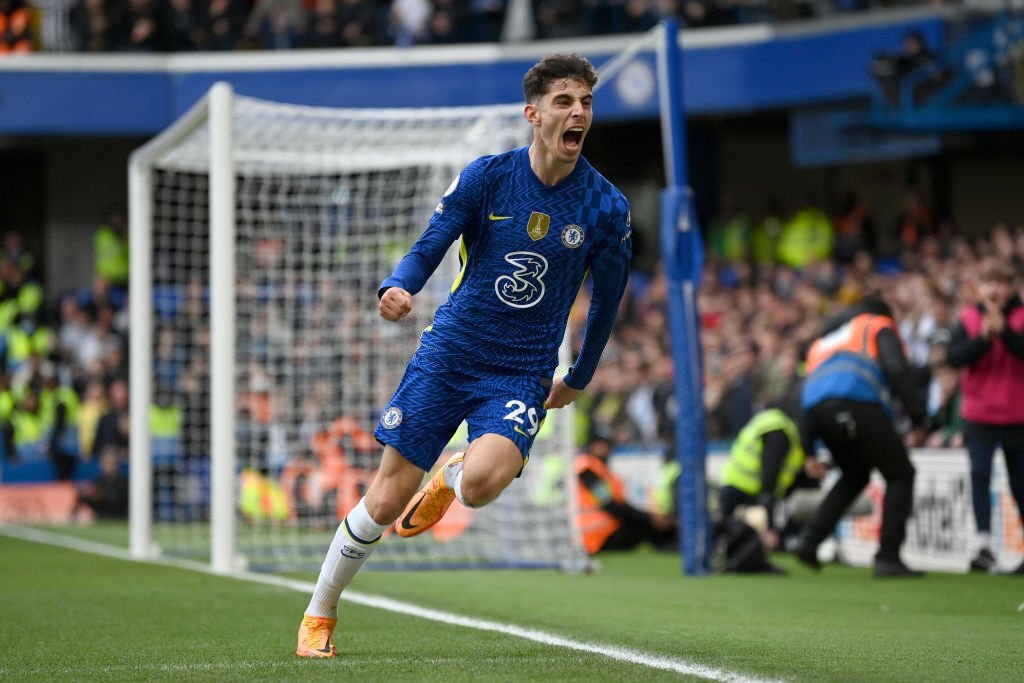 The £65 million Kai Havertz has been accommodated to a considerable extent by Arsenal manager Mikel Arteta, and it's been disturbing the team's general balance in the process…
By defeating Crystal Palace, Leicester City, and Bournemouth in their first three games with nine goals scored and only two let past the net, Arsenal had already established themselves as prospective championship contenders last season during this time.
The Gunners had their greatest-ever start to a Premier League season managing to lead the standings for 248 days, and only lost the championship to Manchester City in the closing stages. For a good portion of the campaign, Mikel Arteta's team seemed unbeatable; nonetheless, they ultimately fell short mostly due to their less-experienced players.
The recent signings of Declan Rice and Jurrien Timber to the team brought Arsenal's spending beyond £200 million, but it was entirely justified in this case. Timber was a great choice for Arteta to help and reinforce his defence because the Gunners lacked a classy, aggressive all-rounder like Rice in the centre of the field.
Havertz has a lot to give Arsenal if taught properly, and Arteta has a vision for him. They won't have any opportunity to dethrone City if he continues in his current position and playing style, though.
However, the reason Havertz was signed was not exactly clear in the beginning for anybody. He was seen by some fans as somewhat of a wasted multi-million-pound signing. The 24-year-old German played in a variety of positions for Chelsea after moving from Bayer Leverkusen in September 2020, but he never quite lived up to his £72 million price tag.
As a result of Havertz being thrust into the starting eleven instead of Granit Xhaka, who left for Bayer Leverkusen this July, Arsenal are already seeming to be a flawed team just three games into the new campaign. Havertz was removed from the pitch after only 54 minutes as the Gunners stumbled to a 2-2 draw against Fulham at the Emirates Stadium on Saturday after failing to excite in uninspiring victories over Nottingham Forest and Palace.
The Chaotic Arsenal Defence Crisis
At the Emirates stadium right now, Havertz is hardly the only player out of place. Arteta rearranged his defensive line to make room for the former Chelsea star, with varying degrees of success.
The existing structure cannot continue if Arsenal wants any chance at leading the standings this season, as the Fulham game demonstrated over the weekend. Due to defensive mistakes, Arsenal lost two points against a club that had to play the last 10 minutes of the game with 10 men.
Arsenal are currently far too vulnerable to counterattack. After Partey went into midfield and White drifted to the right as Arsenal launched an attack, Saliba was left alone in the centre of the pitch for Andreas Pereira's early goal, but Saka gave the ball away carelessly.
After returning from a loan stint at Marseille, Saliba forged a rock-solid centre-back partnership with Gabriel Magalhaes; however, the Brazilian has since been replaced by Ben White. White is more himself on the right, therefore Saliba is also being pressured to adjust to a position there. All of this is being done so that Havertz may fill Xhaka's former position.
Oleksandr Zinchenko has fallen behind Jakub Kiwior and Takehiro Tomiyasu in the team hierarchy as a result of his recent physical issues, while Thomas Partey, who starred for the Gunners in the heart of their midfield last season, has been shifted to right-back.
When Gabriel and Zinchenko were in the starting lineup, Arsenal was stronger because White had the freedom to forward and connect with Bukayo Saka from right-back. Arteta needs to be cautious to return to the fundamentals, particularly because Timber has been out for an extended period due to an unfortunate knee injury.
Havertz Needs To Rethink His On-Field Actions
It's no accident that the German international has created a ton of scoring opportunities in his first three Arsenal games. He possesses a true aerial threat and is skilled at finding space in the box.
The lack of goals for Havertz won't surprise Chelsea supporters in the least. In his final Premier League season at Stamford Bridge, he had an xG of 10.8 and had 44% of his shots on goal, but only scored seven goals.
But Havertz's finishing continues to irritate Arsenal fans. After the Fulham game, Arteta told reporters that this was the case, saying "He's had a lot of moments, he should have already scored several goals this season, and that's the thing that is lacking there."
Arteta will need to significantly up his productivity to understand why he's choosing to stick with Havertz. In contrast to Xhaka's 71 touches in the same match last season, the German had just 28 touches against Fulham, demonstrating that he is not sufficiently involved in Arsenal's build-up play.
It wouldn't matter as much if the goals were coming in quickly, but the Gunners can't afford to have a player on the roster who isn't helping the squad in any way. It is yet unclear whether Havertz will flourish or crumble in the face of the strain even though he is already under the spotlight.
What Could Happen Next For Arsenal & Havertz?
Although Arteta is aware of Havertz's potential, he now needs to change the way he thinks about the German star from a tactical standpoint in order to assist him in overcoming his critics and elevate the team. If he doesn't, the Gunners will not only fall further behind City, but they will also face a fierce battle to stay in the top four.
Arteta does not have the luxury of time like any other manager at a top-six Premier League team. A third season without a trophy for the Gunners won't be welcomed by the fans or the club's board. To get his squad back on track, Arteta must make the most of Havertz's strongest attributes.
As the big man that he is, Arteta has the choice to remove Havertz from the firing line in the near future. But in order to avoid unpleasant questions, he must just figure out how to bring out the best in him. Based on the manager's advice, Arsenal has extensively invested in Havertz's abilities, and if it doesn't pay off, his job in the dugout may come under fire.