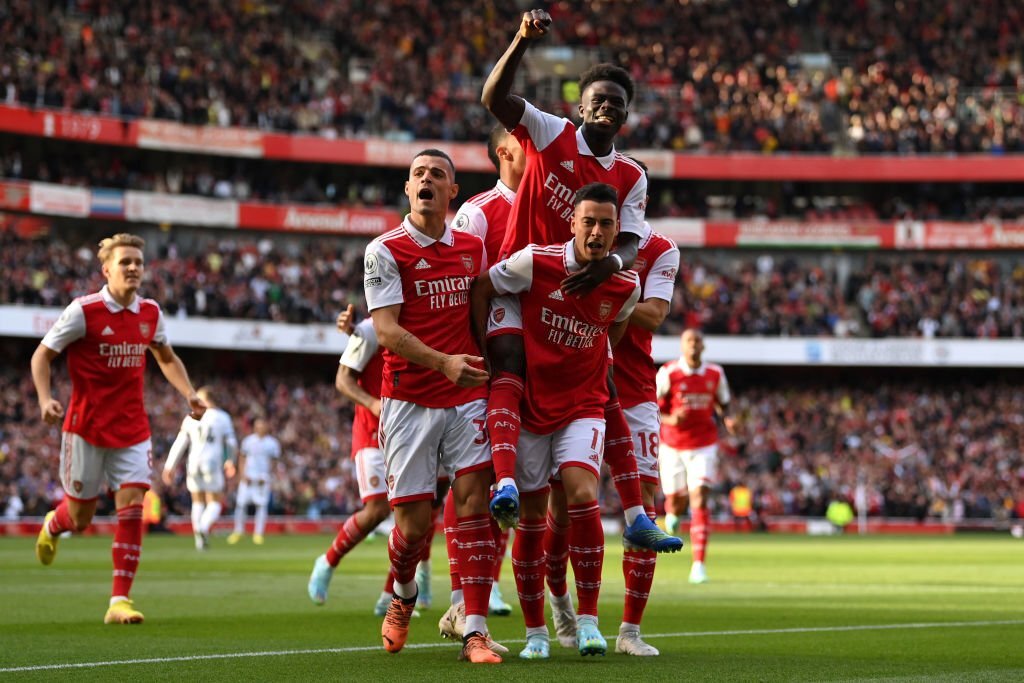 On a very wet evening at the Emirates Stadium, Arsenal, keen to make up for six years of missed opportunities in the Champions League, made PSV Eindhoven pay dearly in a thrilling match.
The performance by Arsenal, which was played out in near-perfect circumstances in north London, was flawless in every way. Yes, the weather was far from ideal, but Arsenal's performance came close to being ideal as they crushed a PSV team that had gone 26 games without a loss.
Although it is much too early to discuss how far Arsenal can advance in the Champions League after just one game, there is no denying it was a remarkable performance from the Gunners.
With a performance exemplified by a brilliant first half that served as a declaration of intent about Arsenal's objectives in Europe's top tournament this season, Arteta's apparent joy at the game's conclusion was brought on by their performance.
When Gabriel Jesus was available to Arteta, he provided the talent and the attacking focal point that led to PSV's defeat in those early stages. After making a lightning-quick turn away from the PSV defence, Jesus played Bukayo Saka in after he had already given Arsenal the lead. Leandro Trossard, who scored the game-winning goal against Everton on Sunday, received the ball from him and finished with poise.
Before halftime, Jesus rightfully scored a third goal, and Martin Odegaard added a great finishing touch. Arteta was able to start preparing for the north London derby early by giving Saka, Trossard, Jesus, Declan Rice, and Oleksandr Zinchenko an early night since the selected Gunners roster had such perfect control.
For Arsenal, Arteta, and the Gunners supporters who made their way home in good spirits despite getting drenched by the heavy downpour, things could not have ended better.
The bigger question is, however, which of Mikel Arteta's two elite goalkeepers will start this Sunday's important North London derby against Tottenham? Aaron Ramsdale or David Raya? Of course, choosing between Raya and Ramsdale is a big decision. Additionally, it will be the most obvious sign of who Arteta currently views as his top goalkeeper.
No matter how dissatisfied or unfairly treated England national Ramsdale feels, Arteta must play against Spurs if he determines Raya was the Everton goalkeeper on Sunday and against PSV. Raya wasn't put to the test much here, but even under pressure, he handled the ball with ease and had excellent distribution. A wide variety of passes, both long and short, were made by the Spaniard, all of which were executed with outstanding accuracy.
Raya has maintained two clean records, displayed great handling, and reinforced the positive impression he made at Brentford. So, what possible justification could there be for Arteta to return to Ramsdale?
While Ramsdale played a significant role in Arsenal's Premier League campaign last season, it is apparent that Arteta has seen something that has led him to move for Raya.
For the time being, though, Arteta and Arsenal can take pride in a job superbly done in front of fans so eager to celebrate the club's return to the Champions League that the sound of the competition's song sent a roar rolling through Emirates Stadium before kickoff.
The six-year wait was well worth it after Arsenal's heart had grown fonder during its absence from the Champions League.