5 Best Premier League Stadiums To Visit
You're a real football fan and the Premier League is your holy grail. It's not just about the adrenaline-pumping matches, but it's also about feeling the energy radiating from the iconic football temples that have played host to countless historic moments. You've dreamt of experiencing the electric atmosphere, the chants of avid fans and the sheer architectural beauty of these colossal structures. Well, it's time to make your dream a reality. We've listed the top 5 stadiums in the world that you simply must visit during the premier league season. From the historic St James' Park of Newcastle United to the modern Emirates Stadium of Arsenal FC, the avant-garde Tottenham Hotspur Stadium, the legendary Anfield of Liverpool FC, and the iconic Old Trafford of Manchester United. Each of these stadiums has its unique charm and a visit to these can give you an experience like no other.
So, let's check the ranking of the best stadium that is an unique part of the Premier league football history.
5. St James' Park (Newcastle United)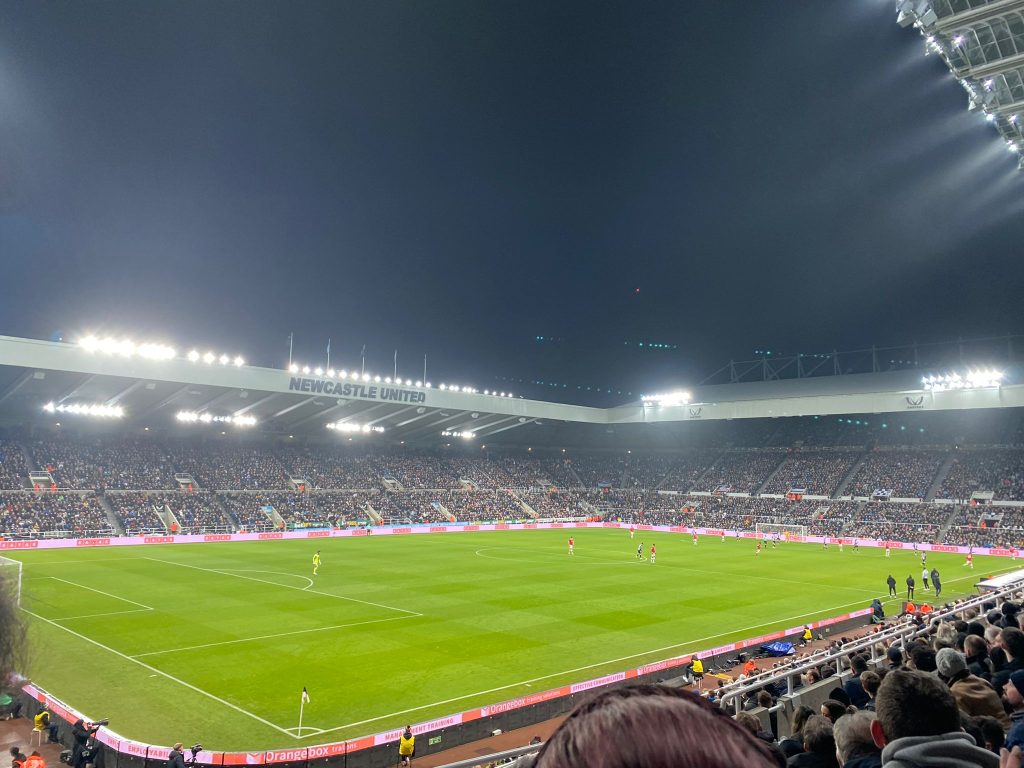 You'd be hard-pressed to find a Premier League stadium with as much character and atmosphere as one of the largest stadiums – Newcastle United's St James' Park. Nestled in the heart of Newcastle city, this stadium is steeped in history and tradition. Built in 1880, it's been the stomping ground for Newcastle United for over a century. Its oddly unique design and lop-sided appearance sets it apart from any other stadium you've ever seen. But don't let this fool you, it's the home to one of the most passionate fan bases in England.
The atmosphere is electric, making it an intimidating place for opponents to step foot in. You'll instantly feel the boisterous home support that makes this ground one of the most daunting for visiting teams. An away trip to St James' Park is a football experience you won't want to miss. As part of the travelling support, you'll be packed into the top tier of the Leazes Stand. From here, you can take in the stunning views of the Newcastle countryside and city skyline. It's these reasons that make St James' Park one of the best Premier League stadiums to visit.
4. Emirates Stadium (Arsenal FC)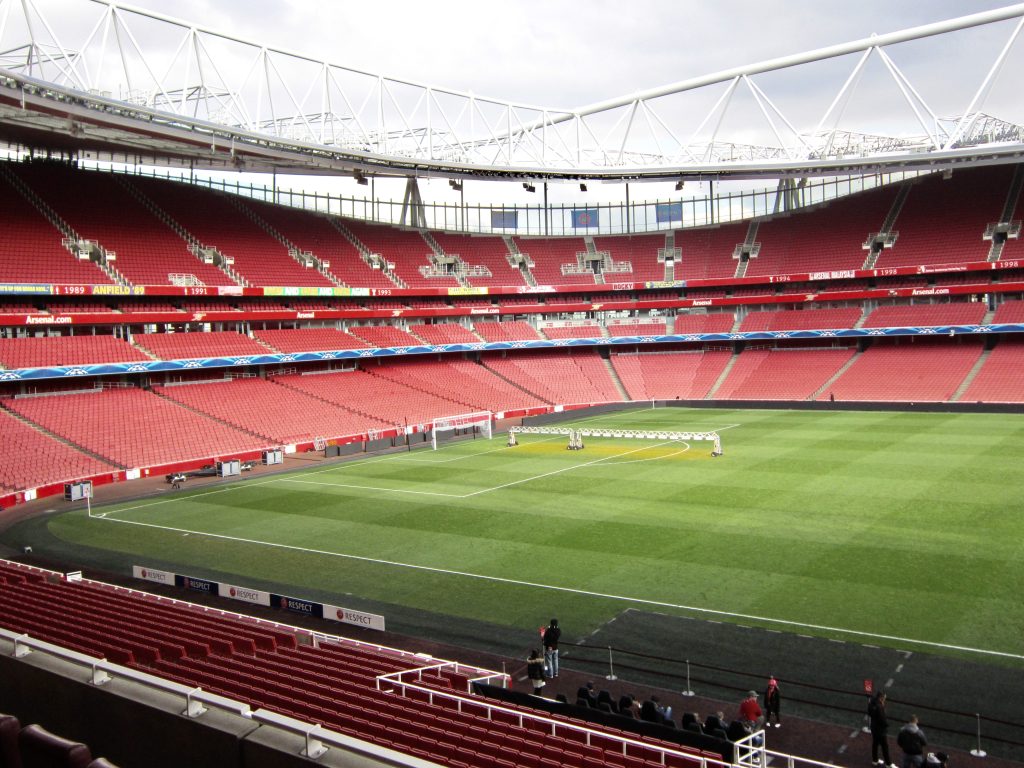 Emirates is one of the oldest stadiums in the Premier league and has one of the best atmospheres in the Premier league. Despite the steep ticket prices, there's no denying the allure and grandeur of Emirates stadium – Arsenal. It is an architectural marvel that's worth every penny. The moment you step into this four-tiered bowl of steel and glass, you're met with an awe-inspiring sight that is both intimidating and beautiful. And don't let the price tag fool you. Despite being one of the most expensive season tickets in Europe, over 60,000 passionate Arsenal fans fill this stadium to over 98% capacity. There is no doubt that Emirates is one of the best stadiums in London.
This just goes to show that the beauty and state-of-the-art facilities of the Emirates Stadium are simply irresistible. This iconic stadium is not just a football ground. It's a symbol of pride and passion for Arsenal fans. It's a place where dreams are made and hearts are broken. It's a testament to the love and dedication of the fans who, despite the high ticket prices, still pack the stands to cheer for their beloved team. It may not be the largest stadium in England, and it may stand just a shadow behind Tottenham Hotspur's Stadium, but for the Gunners, it's all that matters in North London.
3. Tottenham Hotspur Stadium (Spurs)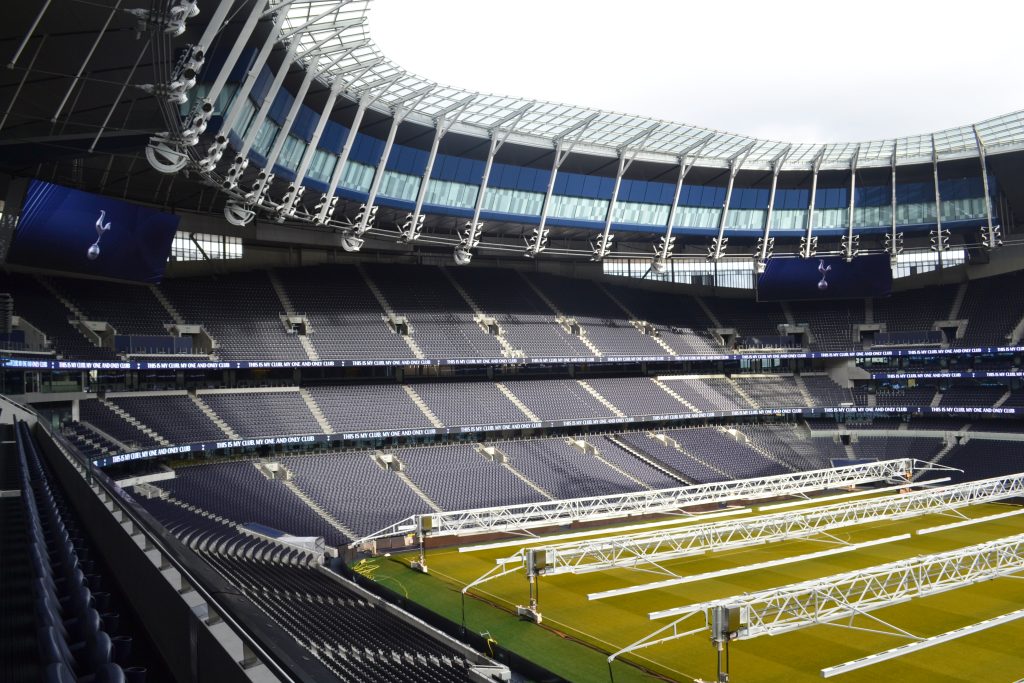 With its majestic architecture and cutting-edge facilities, Tottenham Hotspur's home ground is a sight to behold, a testament to modern stadium design. Opened in 2019, the stadium boasts an impressive capacity of 62,850, making it the second biggest stadium in the Premier League. This colossal venue is nearly double the area of Tottenham's old White Hart Lane, and the £1 billion spent on its construction guarantees you're stepping into one of the best Premier League stadiums. The stadium's design is a stunning blend of glazed cladding, metal panels, precast concrete, and LED luminaires, showcasing the epitome of state-of-the-art construction. It's one of the newest stadium and a top tier of the English football clubs in the Premier league.
Tottenham hotspur stadium opened in 2019 building a new stadium premier league with a capacity that is impressive. The stands are set at a steep 35-degree angle, the maximum allowed for any Premier League stadium, enhancing every spectator's viewing experience. What makes this stadium particularly unique is its enclosed corners that reverberate crowd noise, creating an electric atmosphere. And you can't miss the first-ever microbrewery in a stadium, capable of producing over 1 million pints of beer a year! So, when you visit, you're not just watching a football match, you're becoming part of a breathtaking experience.
2. Anfield (Liverpool FC)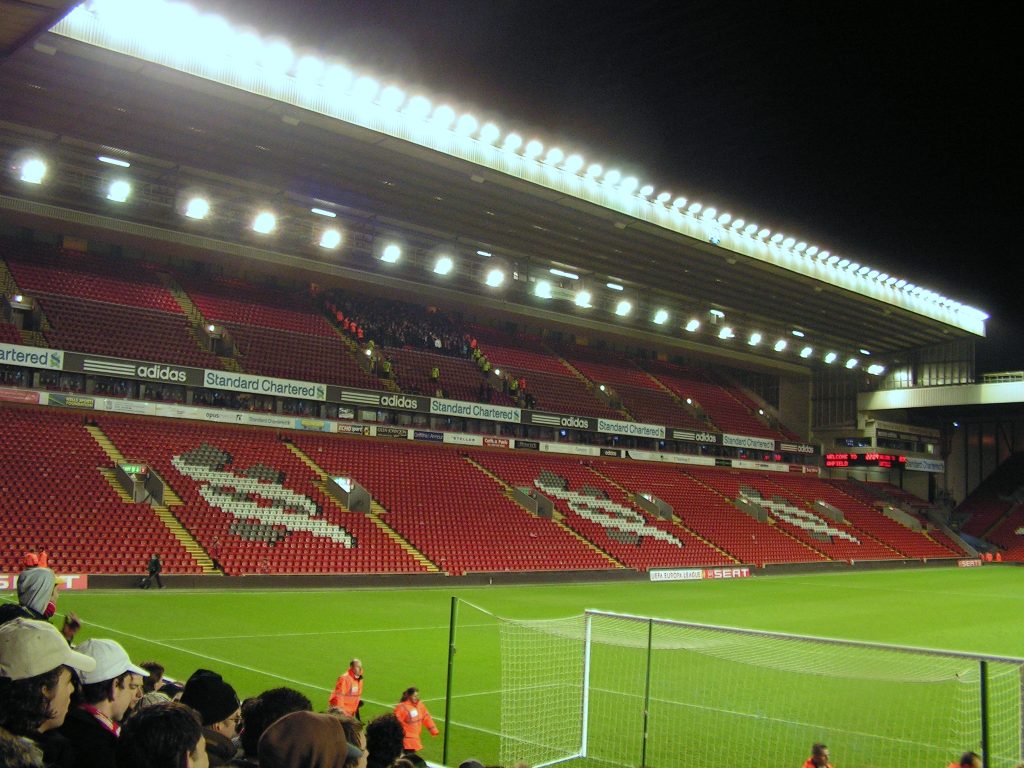 Anfield's electrifying atmosphere on match day is an experience that's hard to match, making it a must-see destination for any football fan. You'll feel the history resonating from the stands, as this has been the home of Liverpool FC since 1892. The decision to expand rather than relocate shows a loyalty that's deeply appreciated by the fans, and you can sense their pride in every cheer and chant. As you walk onto the pitch, you'll spot the iconic 'This is Anfield' signage. It's more than just a sign, it's a symbol of the sheer intensity that awaits the opponents, it's also one of the best soccer places in the world.
There's nothing quite like it anywhere else in the world. As the crowd belts out 'You'll Never Walk Alone', you'll understand how teams get derailed with such force and passion. The world-renowned 'Kop' stand is a sight to behold, known for its voracious support and intimidating presence. Many of the best Premier League players call Anfield home, adding to the incredible atmosphere. A visit to Anfield is more than just a game, it's an unforgettable experience that truly embodies the spirit of football.
1. Old Trafford (Manchester United)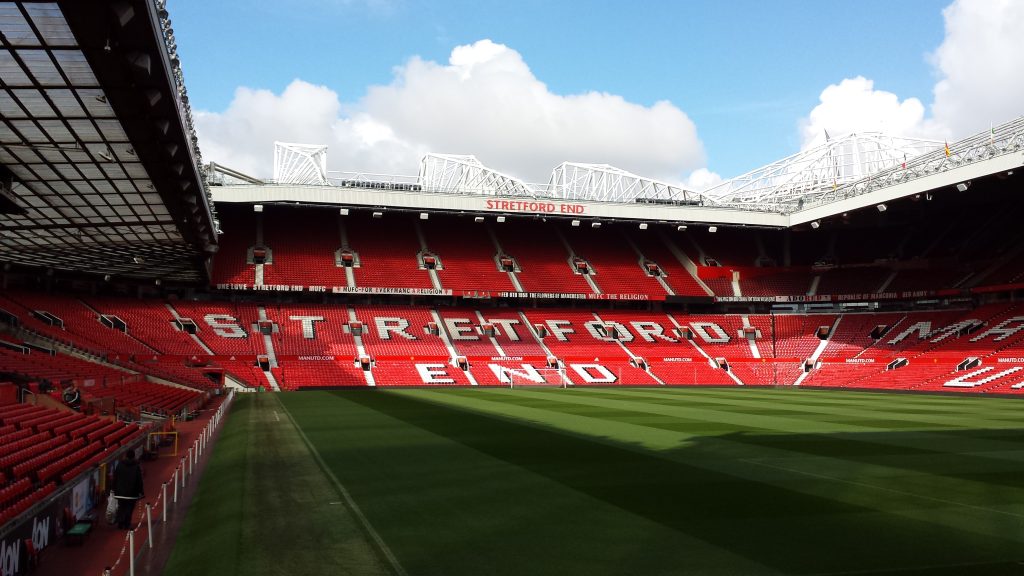 You can't help but feel a sense of awe when you step foot in Old Trafford, the iconic home of Manchester United. Known as 'The Theatre of Dreams,' this stadium is not just the most iconic in the Premier League, but it's also one of the most recognizable in the world. This isn't just a football stadium; it's a symbol of Manchester United's rich history and dominance in English football. The stadium has seen significant redevelopment since it first opened its doors in 1910. It's now the biggest in the Premier League, with a whopping capacity of 74,310. Truly, Old Trafford is like no other stadium. According to the stadiums in English football, it's one of the smallest stadium in the Premier league.
It's only second in size to Wembley Stadium in England. Still, it's top tier of English football and the stadium would be remembered as the best stadium in the premier league. This remarkable transformation came about after most of Old Trafford was destroyed in a German bombing raid during World War 2. Walking on the same ground where legends like Cristiano Ronaldo, Wayne Rooney, Roy Keane, Ryan Giggs, and David Beckham have trod is a surreal experience. Old Trafford isn't just a stadium; it's an emblem of football's rich history and a testament to Manchester United's enduring legacy. You'd be remiss not to visit this iconic ground. So, there is no doubt that Old Trafford's stadium is the best in the world and in the English football history.
Conclusion of the best Premier league stadium to visit
So, there you have it! You've got a top-notch list of Premier League stadiums to visit. From St James' Park's captivating charm to the modern marvel that is Tottenham Hotspur's home, you're in for a treat. Don't forget the iconic Anfield and the legendary Old Trafford. Other iconic and significant stadiums are St. Mary's stadium – Southampton, Amex stadium, Vitality stadium, London stadium Molineux stadium, Community stadium, King power stadium, Goodison park, Etihad stadium, City of Manchester stadium and New Bretford community stadium – Bretford. Are you excited to visit one of them? So, lace up, grab that scarf, and start planning your grand tour of the best English football arenas!